By Jean Malanum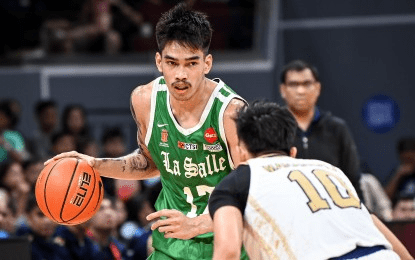 MANILA – La Salle's Kevin Quiambao and Ateneo's Kacey dela Rosa are leading the MVP race in men's and women's basketball, respectively, after the first round of the University Athletic Association of the Philippines (UAAP) Season 86 tournament.
Quiambao garnered 118 points, 67 rebounds, 36 assists, eight steals, and six blocks against 20 turnovers and one infraction (unsportsmanlike or technical foul) to lead the Green Archers to four victories.
The Season 85 Rookie of the Year has accumulated 84.715 statistical points (SP).
Reigning MVP Malick Diouf (University of the Philippines) is in second place with 78.413 SPs, with a league-leading average of 14.7 rebounds per game.
Also in the Top 5 are La Salle's Evan Nelle (74.167 SP), University of the East's Rey Remogat (73.714), and Far Eastern University's L-Jay Gonzales (66.429).
Freshman Precious Momowei (UE) is at No. 9 in the SP race with 62.413 to lead the Rookie of the Year race. The Senegalese center is a graduate of Santo Tomas National High School.
Meanwhile, 6-foot center Dela Rosa tallied 127 points, 83 rebounds, 10 assists, 15 steals, and 17 blocks against 24 turnovers and two infractions to finish with 85.0 SP in women's play.
FEU's Josee Kaputu is second with 81.1 followed by UST's Kent Pastrana (76.1), UP's Favour Onoh (74.3), and Ateneo's Junize Calago (72.0).
UP's Louna Ozar, at No. 11 in the SP race with 61.4, is ahead in the top rookie race. (PNA)