The Los Angeles Filipino Association of City Employees (LAFACE) is the only Filipino Association in the City of Los Angeles services, and has been in existence for the past 28 years. One of the objectives of LAFACE is to foster the advancement of Filipinos in City service.
Hence, yearly, LAFACE recognizes Filipinos in upper management and gives special outstanding awards to its members.  In addition, scholarships are awarded to deserving LAFACE members' High School children whose applications are selected for their outstanding academic achievements and community services.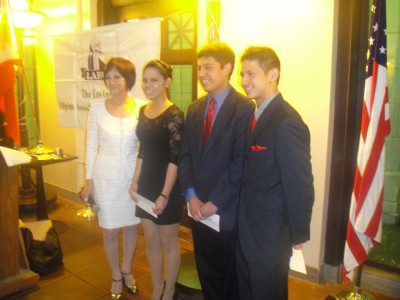 Certificates of Recognitions were awarded to the following:

FILIPINOS IN UPPER MANAGEMENT:
1.    Romel L. Pascual
Environment & Sustainability
2.    Maria Sison-Roces
Executive Assistant to the General Manager, DWP
3.    Patricia Francisco
Director of Human Resources, CRA/LA
4. Â Â  Â Aurora C. Abracia
Chief Administrative Analyst, CAO
COMMUNITY SERVICE AWARD
KATRINA F. YUGOVICH-WOOD (daughter of LAFACE member Miriam Cruz, Port of LA)
Katrina received our LAFACE Scholarship award last year.  She contributed THOUSANDS of dedicated volunteer and Christian service hours within the communities of San Pedro, Wilmington, and Torrance.
She is currently enrolled as a freshman in the College of Biological Sciences at the University of California Irvine, where she joined a Community Leadership Program, which is providing Katrina gain a multitude of leadership experience.  For all her volunteer efforts in the community for the past ten years, Katrina received Certificates of Recognitiion as Outstanding Volunteer from Assemblymember Bonnie Lowenthal of 54th District and Councilmember Janice Hahn of District 15 of the City of LA.
SPECIAL AWARDEES:
Ed McLoughlin, Trainer & Consultant
Ryan R. Carpo, Field Deputy, CD 13
The highlight of the event was the presentation of the Scholarship Awards to the following:
1.    ANDREW ANGELES  (son of Evelyn and Eduardo Angeles, City Attorney's Office).
Andrew is  Senior at Loyola High School in Los Angeles with a GPA of 4.0.
He has received academic achievements by the National Society of High School Scholars, California Scholarship Federation, and is an AP Scholar.
He has received academic achievements along with extracurricular activities.  Andrew volunteers at Filipino American Service Group (FASGI) and Search to Involve Filipino Americans (SIPA)  Projects.
He is Loyola's Executive Student's Council, Debate Team and Varsity Swim Team.   Andrew is working hard to qualify to represent the Philippines at 2012 Olympic Swim Team.  He will continue onto law school as he hopes to make an impact in our community and in people's lives.
2.    MARC A. MAGALLANES  -    ( son of LAFACE members, Luz de Leon, Public Works & Alfredo Magallanes, Sanitation)
Marc is a Senior at St. Francis High School with a GPA of 4.05.  He is a staff member of the student yearbook, member of the National Honor Society, and the Academic Decathlon Team.
In his free time, he is a freelance writer for  his school's newspaper, focusing in editorials and current events.  He serves the community by volunteering at the Shriner's Children's Hospital in LA, where he assists in the Child Life Department and he provides levity to the children.  Marc's goal is to be a lawyer and  intends to use his college education in providing a voice to the community he serves.
3.    HOLLY ANN POSADAS (daughter of Dale Posadas and  LAFACE Member John Posadas, Port of LA)
Holly is a Senior at St. Lucy's High School in Glendora with a GPA of 4.03.She  is a Secretary of the Drama Board and Historian for the National Honor Society Board,  a member of St. Lucy's journalism staff, and serves as Senior Video Editor.   She produces St. Lucy's telecast of "What Else is There." St. Lucy's monthly broadcast of events. She serves the community by doing volunteer work at Kiwins Organizaton on various charity projects and Keiro Senior's Health Care.  She is an accomplished Pianist and spends many hours practicing and competing. Her goal is to be a Film & Media Producer, and to make a difference in providing a voice to the community she serves.
OUTSTANDING LAFACE MEMBERS:
1.    Aileen Candido
2.    Amy Santos, Housing Department
3.    Jing Vida, Housing Department
4.    Lourdes Zerrudo, DWP
5,    Norlito Medrano
6Â Â  Â Miriam Cruz, Port of LA
7.    Rhod de Vera, Retired LAFCE Member
After the Awards Ceremony, there were special presentations of singing and dancing.  Dancing and raffles followed.