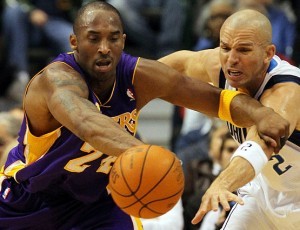 EL SEGUNDO, Calif. (AP)—Although they had quite a combustible meeting last month, the Los Angeles Lakers and the Dallas Mavericks claim the clubs' first playoff meeting in 23 years is too important for any thuggish, boorish behavior.
Matt Barnes(notes) has already been there, done that, and got the T-shirt.
The Lakers forward's sportswear company is selling shirts generated out of the clubs' ejection-plagued meeting on March 31, but he realizes neither team can waste time shoving anybody around in the postseason.
"We're not worried about anything that happened in the past," said Barnes, who was tossed from that game after a physical confrontation with Jason Terry(notes), who clobbered Steve Blake(notes) with a hard foul. "I'm not carrying anything over. I'm not trying to get into trouble or technical fouls or hurt my team in any way. We're going out there to try to win, play hard. That's the only chance any team has to beat us, to play harder."
Game 1 is Monday night at Staples Center.
Dallas is the second-seeded Lakers' highest-seeded remaining road block to their fourth straight NBA finals, and the Mavericks have a combination of inside toughness and depth that could play well against Los Angeles' weaknesses. The Lakers rarely hesitate to get physical when necessary, and the New Orleans Hornets reacted poorly to that postseason toughness in the first round—a mistake the Mavs insist they won't make.
"You've just got to know what you're there for," Dallas big man Brendan Haywood(notes) said. "You can't get suckered into any fake tough-guy stuff, or pushing and shoving. You've got to go out there and do your job, stand your ground."
The clubs' leaders have kept the peace so far—even if it might be paining them. Phil Jackson and Mark Cuban are two of the best needlers in basketball, but the Lakers' 11-time champion coach and the Mavericks' billionaire owner kept their barbs to themselves over the weekend.
Jackson was full of praise for the Mavericks' consistent excellence and Cuban's role in it, even after a season in which Cuban referred to Jackson as Lakers executive Jeanie Buss' "boy toy" after Jackson made a crack about officiating.
Even something that sounded like an insult was intended as a compliment.
"They're the best team money can buy, really," Jackson said after a summation of Dallas' strengths.
Then, after a beat: "So are we."
Jackson kept his focus on more important matters, such as the continued progress of Kobe Bryant's(notes) sprained left ankle. Although Bryant insisted his latest injury is no problem, Jackson worries about the effect of inactivity on his leading scorer's sore joints.
The Mavericks are worried about Bryant for different reasons—including their lack of a defender who's likely to be able to guard Bryant by himself. After watching Bryant's performance on that sprain in the final two wins over the Hornets, Dallas isn't buying any suggestion Kobe isn't 100 percent.
"(Shawn Marion(notes)) will be on him at times," Mavs coach Rick Carlisle said. "Shawn is experienced. He's played him a lot. (DeShawn) Stevenson has played him a lot. (Jason) Kidd has played him. We'll have other guys ready. We'll have the kitchen sink ready. He's a great player and all that, but we're focused on our own game."
Dallas and Los Angeles both finished the regular season with 57 wins apiece. The Lakers won two of three meetings for the tiebreaker, and they kept that home-court advantage by the slimmest of margins, needing an overtime victory in their season finale at Sacramento.
That game turned on a desperation 3-pointer by Bryant, but the two-time NBA finals MVP had already forgotten about it Saturday.
"I don't care about home court, I really don't," Bryant said. "It makes a lot of people nervous, but I don't care."
While the Mavericks have disappointed their fans during most every postseason in the otherwise wildly successful Cuban era, the Lakers' title banners delineate the difference between the franchises. Bryant has declared that Los Angeles' back-to-back championships guarantee nothing this spring, while the Mavericks realize a win over the Lakers would be a tremendous breakthrough and a springboard to the success they've never achieved.
Lakers center Andrew Bynum(notes) thinks these Mavs are good enough to do it, and he gives much of the credit to Haywood and Tyson Chandler(notes), the 7-footers brought in to fix many of Dallas' historic playoff flaws.
"It just makes their team a little more defensive-oriented," Bynum said. "You can't win in the playoffs without defense, and picking up 7-footers is one way to address that."
Two years ago, Bynum worked out in the summer with Chandler, the Compton product and NBA journeyman who has blossomed in Dallas. Unlike most Los Angeles kids, Chandler says he didn't dream of taking the court in that famed gold uniform.
He dreamed of doing exactly what he'll try to do Monday night.
"When you're in the backyard and you're putting up shots and you're doing the countdown, some players would imagine themselves being other players," Chandler recalled. "I would imagine I was killing the Lakers, so hopefully my dreams come true. I guess that I didn't think I could be one, so the next-best thing was beating them."