SAN ANTONIO (AP) – Kobe Bryant agreed it might have been the Lakers' best game so far.
It technically wasn't the worst for the San Antonio Spurs , though it often looked that way.
The Lakers may not catch the NBA's winningest team for the No. 1 seed in time for the playoffs, but they handed the Spurs a blunt reminder that the Western Conference is still theirs to surrender, beating San Antonio 99-83 in a blowout Sunday.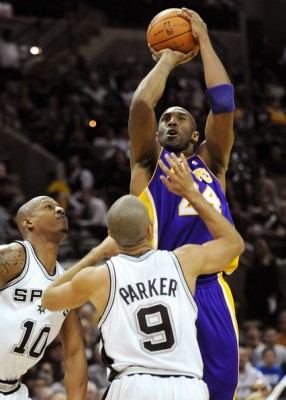 Bryant, who finished with 26 points, didn't make much of it.
"I don't think it's that big of a message that we sent today," he said.
It was the seventh straight victory for the Lakers, who are playing as well as any point this season. Coach Phil Jackson concedes that San Antonio's 6 1/2-game lead in the West may be too big to overcome with 18 games left. But the Lakers still made a few marks.
One is emphatically ending San Antonio's franchise-record home winning streak at 22 games. Another is beating the Spurs for the first time in three tries, including last month's stunning loss in Los Angeles when Antonio McDyess tipped in the game-winner at the buzzer.
Bryant, for his part, didn't show any excitement in winning this round.
"Why should I be?" he said.
Instead, Bryant sought to keep the lopsided win in perspective.
"We know we're capable of having games like this and San Antonio knows we're capable of having games like this," he said. "It just as easily could go the other way around."
Tony Parker led the Spurs with 14 points. He was their only starter in double figures; Tim Duncan scored two points and Manu Ginobili scored six.
Two days after San Antonio humiliated LeBron James and Miami in a 30-point blowout, the Spurs took their own lumps. The NBA's sixth-highest scoring team mustered just 37 points in the first half – matching a season low – and shot 36 percent from the floor.
And it could've been worse. The Lakers led by as many as 32 in third quarter before the Spurs threw in the towel and emptied their bench.
"They hit us in the mouth from the beginning and by the time we realized it, it was the ninth round and we were down on the scorecard," Spurs guard Gary Neal said.
Pau Gasol scored 21 points and Andrew Bynum had 17 rebounds for the Lakers, who can match their longest win streak of the season with a victory at Atlanta on Tuesday.
It's part of arguably the toughest stretch this season for the Lakers, who are still out to prove they're the NBA's best despite trailing the Spurs all season. The Lakers will also play at Miami and at Dallas before coming home to face Orlando on March 14.
By the time the Magic leave Los Angeles, the Lakers will have faced four of the NBA's top seven teams in a span of eight days.
Jackson called it the best the Lakers have played all season against this caliber opponent.
"We need to be at our peak later on," Gasol said. "Not right now."
The last Spurs loss at the AT&T Center had been to Dallas on Nov. 26. But that 103-94 defeat wasn't anything like this.
Bryant finished 12 for 25 and had seven rebounds. His only blemish was a technical foul in the second quarter after getting tangled up with Ginobili, leading to a brief exchange of stares and words.
Ron Artest rushed between the two and pulled Bryant away. It was Bryant's 14th technical foul this season, though he stands at 12 after having two rescinded. The NBA issues a one-game suspension after 16 technical fouls.
The last time the Spurs and Lakers met was in Los Angeles on Feb. 3, when the Spurs won 89-88 on McDyess' tip-in as time expired. Jackson had his video staff pull that clip before this one and remind his team of a game Jackson said they should've won.
It apparently worked.
Neal scored 15 points and George Hill added 14 for the Spurs.
"Nobody expects to be losing by more than 20 in the first quarter," Ginobili said. "But the way the game presented itself, they were making every shot. We couldn't make layups, 3s, free throws, anything."
San Antonio's most lopsided defeat this season was a 24-point loss at New Orleans on Jan. 22.
Derek Fisher scored eight points and remained in the starting lineup after being listed as probable going into the game because of a strained right elbow.
Notes: Bryant is 13 points shy of surpassing Moses Malone for sixth on the NBA's career scoring list. … McDyess played in his 999th career game. The 15-year veteran can hit 1,000 if he plays Wednesday against Detroit. … The Lakers in town made for a rare courtside celebrity sighting in San Antonio: late-night host George Lopez.