Never count the champs out, especially when it comes to blockbuster trades.
The Los Angeles Lakers have reportedly jumped into the Carmelo Anthony-Nuggets trade mix, according to an ESPN report Tuesday.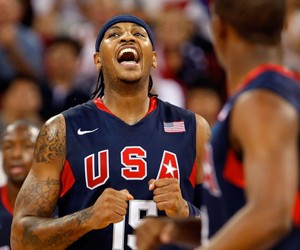 ESPN cites two league sources who say that the Lakers and the Nuggets are in "preliminary" talks. Lakers center Andrew Bynum is the likely top candidate to be involved in the trade.
"There have been discussions between the two teams," said an ESPN source. "The Lakers are definitely an option."
Other reports said that the Lakers already turned down an offer for Antony this offseason. Apparently, Jim Buss, owner Lakers owner Jerry Buss' son, who holds the title of Lakers vice president of player personnel, has an affinity towards Bynum.
Meanwhile Tuesday, a Los Angeles Times story debunked the ESPN one regarding Melo and the Lakers.
"What's out there is inaccurate," a Lakers representative familiar with the negotiations told the Times.
When healthy, Bynum is viewed as one of the top centers in the Western Conference. However, a series of knee injuries over the years have sidelined him for a surmountable amount of time. Bynum missed the first 24 games of this season. He is averaging a little over 11 points and seven rebound per game this year.