LAS VEGAS – For those who missed the first 'live' taping of "It's Vegas! with Lani Misalucha," Lani's soon-to-be-aired television show on NBC affiliate KSNV 3.2 and Cox Cable Channel 123 in January 2011, here is another chance to watch her 'live' with guest celebrities, superstars and Las Vegas headliners this Tuesday, December 28 at the Crown Vegas Theater inside Rio All-Suites Hotel & Casino in Las Vegas.
Doors open at 1:30 p.m. Showtime starts at 2:00 p.m. sharp. According to Jon Fondy, V-AsianTV president, a VIP seating at $15 per person on a first-come, first-served basis is available. Seats, according to Fondy, are very limited, so hurry and make your reservations by logging on to vegasVIPevents.com. All other seats and spaces for the SRO section will be made available also on a first-come-first-served basis, according to organizers.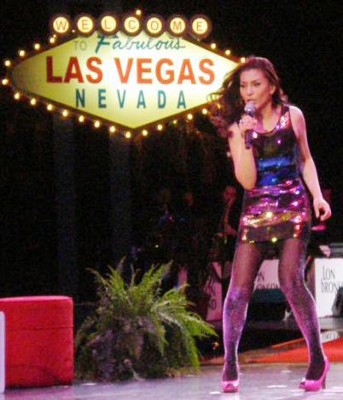 Hosted by Las Vegas-based chanteuse Lani Misalucha, "It's Vegas…," is the first mainstream TV celebrity variety-talk show ever hosted by an Asian world class entertainer. The show also features The Lou Bronson Band. Voted by the readers of Las Vegas Review Journal as 2008 Female Singer of the Year in "the city that never sleeps," Misalucha is also popularly known as "Siren of The Strip."
"It's Vegas with Lani Misalucha" will air locally on regular channel (KSNV 3.2) and cable channel (Cox 123), nationally (in over 49 million homes), and globally via IPTV on www.vasiantv.com.
"It's Vegas…" will also be aired on Living Asia Channel (LAC) – a travel-and-lifestyle channel with a captive audience of more than 10-million households in China, Philippines, South Korea, Taiwan, Thailand and Vietnam – and is available in Southeast Asian countries.
"All of the programming is produced either in Asia or in Las Vegas and all the content is in the English language. The Asia-themed programming reaches an untapped cross section of the Las Vegas community but provides cross-over appeal to the mainstream community. We are also producing Las Vegas-themed original programming (game shows, entertainment shows, and Las Vegas Specials) that will have a national appeal as well," explains V-AsianTV president Fondy.
Created by Bob Jose, and produced by Jon D. Fondy, "It's Vegas with Lani Misalucha" is a co-production venture with executive producers Noli Misalucha and Lani Misalucha, the V-AsianTV Group, and Vita Nova Productions.
The first pilot episode debuted on October 28 and featured Las Vegas headliner and foremost comedian Louie Anderson. The pilot episode boasted a carefully selected cast, musicians and crew, who complement the great talents of Lani Misalucha, Later episodes, according to Jose, V-Asian Productions president, will feature international celebrities and superstars from around the globe.
Wilfredo 'Jing' Espiritu, president & CEO of V-Asian Group, the holding company for V-AsianTV and V-Asian Productions, says of Misalucha: "We feel that Lani is the perfect host for this global TV show as she is now well-known internationally following years of headlining shows on the Las Vegas Strip." (Zen S. Laluna)