LAS VEGAS – There's a new campaign activity that will keep the Filipino and Asian American community of Las Vegas excited and inspired again. This is the time when unity and cooperation as well as political activism and involvement among Asian-Americans in Clark County will once again be put to test. As had been proven in the past, Asian American votes weighed in heavily and practically tilted the result of elections not only in Clark County, but throughout the state of Nevada, as well.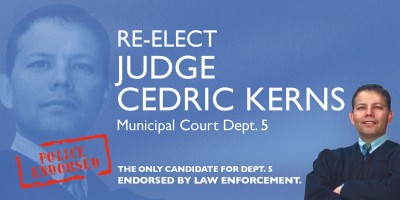 On Thursday, January 20, 2011, the Hon. Judge Cedric Kerns of Las Vegas Municipal Court, Department 5, will kick off his re-election campaign at the Italian-American Club from 5:30 p.m. till 8 p.m. Everyone is invited to come and participate actively in the affair. Italian American Club is located at 2333 E. Sahara Avenue (by Eastern Avenue). For details, contact Committee to Re-elect Judge Cedric Kerns at 515 South 6th Street, Suite 400, Las Vegas, NV 89101.
Judge Cedric Kerns is the very first Filipino-American, and the youngest judge ever, elected in the Las Vegas Municipal Court. This is Judge Kern's fourth run. In 2000, he ran unopposed due to his brilliant performance and service to the people of Las Vegas, a top notch performance that did not go unnoticed by the Las Vegas Review Journal, the only mainstream newspaper in the state which runs an annual rating of judges in Clark County. In the past several surveys, Judge Kerns almost always topped the LVRJ survey of municipal judges.
Judge Kerns is the son of the late Kenneth Kerns, a retired US Navy, and Vivienne Kerns, who hails from Sorsogon in the Bicol Peninsula, Philippines.
Wilfredo 'Jing' Espiritu, formerly State chair of the National Federation of Filipino-American Associations-Nevada Chapter, is calling on all fellow Asian Americans to show their support and commitment to Judge Kerns' candidacy as the latter personifies the successes and contributions played by Asian Americans in the development and progress of Clark county, and the state as a whole.
Judge Kerns is credited for starting the Youth Offender Court, where drug addicts undergo a year-long drug treatment under the supervision of the court and requires the participation of defendants and their families in the recovery process. The court provides training and counseling for family members to understand what goes on in the minds of drug addicts. The Youth Offender program is funded by private donations in addition to defendants' fines and rents for their stay while in rehabilitation.
For his initiative and concerns, Judge Kerns earned much plaudits from families who had been helped and law enforcement which also benefited from the program seeing how the YO court had helped lessen drug addiction among youth offenders in the city, and thus eases their own case loads. (Zen Laluna)