LAS VEGAS – If the inaugural run of the Rock N Roll-Las Vegas Marathon in 2009 was remembered for its 27,600 runners, weddings on-and-off marathon course, and lavish entertainment extravaganza featuring two while Bengal tigers, the Vegas showgirls, skydivers and a 15-minute fireworks that lighted up the darkened sky on that early chilly morning of December 8, this year's Rock 'n' Roll-Las Vegas Marathon and Half -Marathons promise to be bigger and livelier with a sold-out 30,000 participants running the length and breadth of the world-famous Las Vegas Strip, and a post-concert featuring Brett Michaels, the point man singer of the legendary rock band Poison. Michaels has sold more than 25 million records to date.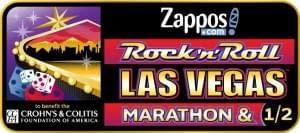 The entire Las Vegas Strip on both directions will be closed to vehicular traffic from start to finish. According to the organizers, the full 13.1 miles of the Half-Marathon course will be on the Strip, with the full marathoners running alongside them for nearly 11 miles to complete the 26.2 miles.
Runners and spectators alike can expect electrifying live entertainment all along the marathon route. Photographers will have a field day taking fun photos along the historic Strip with landmarks on both sides of the route.
This year's starting line has changed to the corner of Las Vegas Blvd. South and Dewey Street in front of the Mandalay Bay Hotel Resort & Casino.
The entire race will be featured live on giant hotel marquees as the runners from 50 states and 139 countries pass by.
The Las Vegas Rock 'n' Roll Marathon is only the latest in the Rock 'n' Roll Marathon Series which had its first run on December 8, 2009, officially joining 11 other cities namely Seattle, Chicago, New Orleans and San Diego, among others.
Organized by Competitor Group, Inc., a leader in endurance sports new media, marketing and event management, the Rock 'n' Roll Las Vegas Marathon and Half-Marathon will have its second run on Sunday, December 5, 2010 starting on Las Vegas Boulevard near Mandalay Bay and back to the finish line in the Mandalay Bay parking lot.
All marathons, including half-marathon and the Wheelchair Invitational will start at the Mandalay Bay parking lot.
Marathoners must complete the marathon within the allotted time of 5 hours and 30 minutes; while the half-marathoners must complete the half-marathon within 4 hours.
A state-of-the-art ChronoTrack Timing System will be used to record participant's times from start to finish. Live entertainment will line the race route with exhilarating music, lively cheerleaders to cheer runners along the way.
At the finish line, the event will be capped by a post-race concert featuring rock star and reality TV star Bret Michaels at the end of the race at the Mandalay Hotel parking lot. Admission is free for participants and spectators alike.
There will be prize money and special awards for those finishing on the Top Three in every age group.
Like in Las Vegas marathons past, the presence of the Asian-American community and delegations from Asian countries will be greatly felt. This year, Japan and the Philippines (last year's guest country) will host China and the Chinese delegation.
An Asian Fun Site can be found at the Excalibur Hotel & Casino parking lot facing the Las Vegas Boulevard South. The Asian-American division will man two Water Stations #9 under the directions of Team Captain Cynthia Deriquito, and Water Station #10 under the directions of Team Captains Roy Kawaguchi and Tina Chan, respectively.
To register for the event, or for information, contact the following directors for Asian-American Office: Robert Hagashinaka @ (702) 296-7451 or e-mail to info@elcycorp.com; Roy Kawaguchi @ (702) 339-3155 or e-mail to kawaguchi@aol.com; and Cynthia Deriquito @ (702) 338-8570, or e-mail to cynderix@yahoo.com.
On Saturday, December 4, the 2010 Rock 'n' Roll Las Vegas Marathon & ½ Marathon Asian Office will have a pre-run marathon party from 2 p.m. to 4:30 p.m. at the Italian American Club on East Sahara Avenue (by Eastern Avenue).
Open to the public, tickets for $20 per person includes Italian food, entertainment variety from local and imported groups like Soul Splash from Japan, among others.
In 2009, Rock 'n' roll Las Vegas Marathon registered more than 27,600 runners. More than 23,000 crossed the finish line within the allotted time. Kenya's Christopher Toroitich ruled the Men's Marathon division in 2:15:15; while compatriot Caroline Rotich ruled the women's division in 2:29:47.
Team Challenge, the Half-Marathon training program of the Crohn's & Colitis Foundation of America (CCFA), has raised $3.9 million last year. The charity expects to double it this year with more runners and corporate sponsors participating. CCFA conducts research, education and support on Crohn's disease and ulcerative colitis.
Following its successful inaugural run last year, the Las Vegas Rock 'n' Roll Marathon and Half-Marathon will again be powered by Zappos.com for the benefit of the Crohn's and Colitis Foundation of America (CCFA).
This year's major sponsors include Zappos, Cytomax sports drink, MGD 64 beer, and Arrowhead Mountain spring water.
The Las Vegas Rock 'n' Roll Marathon on the world-famous Las Vegas Strip, is one of the most anticipated running events in the U.S. It helps the Las Vegas economy especially at this recession, with more than 30,000 participants expected to join in this year's chilly race.
For further info, call Las Vegas Marathon 2010 at (800) 450-6510 or (800) 311-1255., or visit and register online at its website on www.rnrvegas@competitorgroup.com.
(Zen S. Laluna)