LOS ANGELES -This city has the worst luck.
Through decades of disaster films, Los Angeles has been targeted by aliens, toppled by temblors, sunken by tsunamis, leveled by lava, and a rogue tornado once took out the Hollywood sign.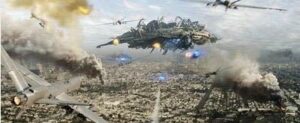 And so it will be that calamity again strikes the City of Angels in the new sci-fi film "Skyline," opening Friday, followed by another bout of destruction early next year in the movie "Battle: Los Angeles."
What is it about L.A. that invites such repeated devastation?
"People love watching Los Angeles get destroyed," says "Battle: Los Angeles" director Jonathan Liebesman. "It's nice to screw up the great weather."
But there's so much more to it than that.
The city is home to Hollywood and the movie business, so the artists who write about, direct and execute mass destruction in Los Angeles are often intimately familiar with the territory.
Production designer Jackson De Govia – who helped blow up the Beverly Center shopping mall and decimate Wilshire Boulevard's museums in 1997's "Volcano" – says he loves trashing his own city on film.
"One of the funnest things you can do in movies is blow stuff up," says De Govia, who also pulverized Nakatomi Plaza in the original "Die Hard." "And if you're blowing up your hometown, and that hometown is Los Angeles, it's even better, because who hasn't wanted to do that at times?"
L.A. is a city filled with internationally recognized landmarks – the Hollywood sign, the Capitol Records building, City Hall and the skyscrapers of downtown – which make for "convenient cinematic shorthand," says Craig Detweiler, director of the Center for Entertainment, Media and Culture at Pepperdine University.
"It allows the scale of the disaster to strike everybody," he says. "Everybody recognizes the Hollywood sign. It's like, 'Oh, that's big.'"
Apart from its landmarks, L.A. is a popular disaster-movie locale because of its geography. Sitting in a seismic zone on the western edge of the continent, it is surrounded by beaches, mountains and deserts. In real life, the city is subject to floods, fires, earthquakes and big waves, so seeing freeways collapse or Santa Monica swallowed up by the sea (as in "2012") isn't such a stretch.
"L.A. can have these multiple functions as an apocalyptic disaster place because it's on the verge between urbanism and nature," says Leo Braudy, a University of Southern California professor and author of "The Hollywood Sign: Fantasy and Reality of an American Icon." "There's a sense of the precariousness of human habitation over this potentially eruptive nature."
Los Angeles is also a city many people love to hate, notes American Film Institute historian Bob Birchard: "L.A. and certainly Hollywood have been associated in some people's minds as a hotbed of the devil's work, so that underlying element is part of the genre."
That notion isn't just implied in 1996's "Escape from L.A.," it's stated: Los Angeles becomes known as the "island of the damned" and "a deportation point for all people found undesirable or unfit to live in the new moral America."
Birchard says the first disaster film was "The Lost World" in 1925, in which London was destroyed. New York took its first on-screen beating in 1933's "King Kong."
Since Los Angeles didn't rise to prominence until after World War II, it wasn't a popular site for annihilation until 1952's "War of the Worlds."
Since then, the city has been subject to all kinds of disasters, both natural and otherworldly, in films such as "Earthquake" with Charlton Heston, "Superman" with Christopher Reeve, and more recently "Terminator," "Independence Day," "The Day After Tomorrow" and "2012."
Ultimately, heaving destruction on Los Angeles shows Hollywood's sense of humor, sense of optimism and a real love for its sunny, palm-lined home.
Greg Strause, one of the filmmakers behind "Skyline," says the alien-invasion flick was inspired by the breathtaking view from his Marina del Rey condo. The invaders' first target? Movie studios.
"It's a strange coincidence that the motherships, they descend on all the studios first," he says with a laugh. "One's in Culver City. One's in Century City… Those aliens, they have peculiar tastes."
"We barbecue all of West Hollywood and Beverly Hills," adds co-director Colin Strause.
The destruction was achieved digitally at the Strause brothers' own visual-effects firm, Hydraulx. The company also did special effects for "Battle: Los Angeles," another alien-invasion tale as seen through the eyes of one Marine platoon in L.A.
De Govia and his team lovingly rebuilt almost the entire Miracle Mile stretch of Wilshire Boulevard at three-quarter scale for the destruction scenes in "Volcano." They also built the Beverly Center in miniature. Then they blew everything up.
A longtime L.A. resident, he's been moved – literally – by other disaster films set in the city.
He wanted to buy a home near the reservoir in the Hollywood Hills, but decided against it after seeing "Earthquake," in which the reservoir's dam breaks and floods the neighborhood below.
"It's always in your mind," he says. "Dams do break. We see it in movies all the time."
But regardless of the on-screen devastation, there are always a few survivors in these films, along with a message of hope, which USC's Braudy relates to the West Coast's spirit of optimism – yet still another reason for Hollywood to choose L.A. when doing digital disaster.
"It's kind of hedged, but there's always hope: Hope for change, hope for resurrection," he says. "It's an odd kind of Western optimism: We're going to start over again, like a phoenix rising from its own destruction."
It's cathartic to see people triumph over tough challenges, and it's fun because it's all pretend. Los Angeles may be in ashes, but step outside the theater, and there it is in all its gilded glory.
"L.A. is good at playing itself in film. It's a familiar face," says Detweiler. "Just as we expect Will Smith to rescue the day, we expect L.A. to get blown up and somehow miraculously reappear in the next summer blockbuster."