SO LA
By Jannelle So
While most 18-month old babies were learning how to walk, talk and throw tantrums, Roshon Fegan was starring in his own Pepsi Slice commercial. As most 5-year old kids played with toys, Ashley Argota was experimenting with British accents, prompting her mom to enroll her in acting school. And as pre-teeners of her generation busied themselves with school and updating their status on social networking sites, Anna Maria Perez de Tagle was busy online, alright, but looking for agencies to help her break into Hollywood. And oh yeah, she also became the first Asian Cinderella in the Bay Area.
They started young in an old industry. But don't let their age fool you because these Filipino American stars in Hollywood are holding their own.
Roshon has definitely come a long way since he dropped a coin into a machine and started singing and dancing in a television commercial. Working with Disney for about four to five years now, he is best known for his role as Sander Loyer in the Disney Channel movie franchise "Camp Rock" and for his role as Ty Blue on the Disney original series "Shake it Up!" But this multiple-threat 19-year old is not just into acting. In addition to producing his own web series on YouTube, the half-African and half-Filipino star also sings, raps, writes and produces his own songs.
"I'm just doing me. I'm fulfilling my dreams. Teaching the world revolutionarily with music that I produce with ease…" are the first lines to his song "I Am" which he recently launched on "Kababayan LA" on LA18.
Ashley Argota just got accepted at the prestigious New York University where she plans to take up nursing starting this year. But the young actress and singer who just turned 18 last January made a name for herself in young Hollywood as Lulu on the Nickelodeon sitcom "True Jackson VP" and Kelly on "Bucket and Skinner's Epic Adventures."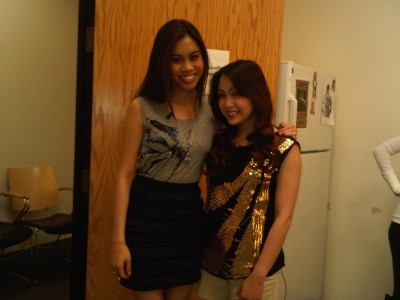 "If you're not having fun, don't do it. There really is no point in doing something you don't love," she shared in a recent interview on "Kababayan LA". "If it's not your passion, don't do it. If it is your passion, don't stop working hard."
Anna Maria is the granddaughter of acclaimed Filipina singer Sylvia La Torre. But she did not use that connection, unlike what others usually do. Instead, she worked hard to hone her skills, made sacrifices, and eventually endeared herself to fans as Ashley Dewitt on the Disney hit "Hannah Montana" and Ella Pador on "Camp Rock" and "Camp Rock 2: The Final Jam."
"Dream big and really listen to your heart," she advised viewers in when I interviewed her on "Kababayan LA". "There are lots of sacrifices. I had to miss parties so I could go to vocal lessons and Community Theater. There will be rejection, too. The key is to have thick skin and luckily I have that."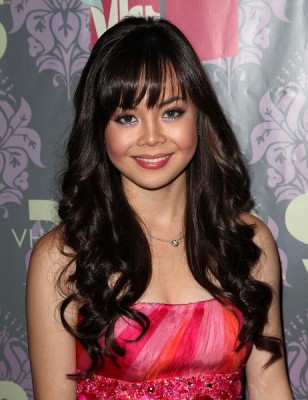 If you missed any of these interviews, all "Kababayan LA" shows are uploaded to YouTube. Catch us at www.youtube.com/kababayanla18. We are also available on Time Warner Video on Demand. Just click on International category, then select "Filipino."
Perhaps it's because they operate in a very feisty, competitive, surreal, sometimes-shady, and let's be honest – usually fake – world of show business, these kids have definitely grown up a lot faster than their peers. And I mean it in a positive way, so positive in fact, that I dare say they could tell us what LIFE is all about.
Life is about LAUGHTER and LOVE. Ashley already said something about loving what you do and having fun. And in life, that's a good gauge of how successful a person becomes and how light his/her load is.
"My nickname on 'True Jackson' backstage was 'Smiley' because I would literally smile through everything," said Ashley.
Life is about INSTRUCTIONS. And as these young Fil-Am artists shared, they get it best from their parents. And they realize they have to listen. Roshon says his dad, who's a long-time producer, is one of his idols and he doesn't mind listening to him and getting his opinion on things.
"I'm a fan of a lot of people. I'm a fan of my dad," he said in the same interview.
Ashley recalled when she was preparing for her 18-birthday celebration. She brought a cute short dress to wear the next day even though her mom told her to wear jeans instead because it might be cold. She did not listen. And true enough, it rained the next day.
"Simple things like that make me realize mother knows best," she concluded. "Now I always listen to her and ask her for advice."
Life is about FAMILY. Roshon, Ashley and Anna Maria admit they wouldn't be where they are now without the help and sacrifices their family made in order for them to live their dreams. Ashley's mom, a nurse, quit her job so she could accompany Ashley on tour for the "Lion King". Anna Maria's whole family moved to Los Angeles because her agent advised them it was better for her to be living in Hollywood than in San Francisco where they were originally from.
"It boils down to family. I'm lucky my family sacrificed a lot for me. I'm thankful for that," Anna said. "Things can get me down but I think about my parents and siblings who've loved me ever since. That's what keeps my spirits up."
Life is about EFFORT. You can't go through life just accepting what it throws you, pain and all. You have to set goals for yourself and do everything it takes for you to accomplish those.
"Never give up…Because it will happen eventually," Ashley said, recalling the story of how she got rejected many times for "True Jackson," to the point where her mom actually told her to stop because the negativity was overwhelming. Her mom told her to go to one last audition and that was it. If she got it, good; if not, she'd stop altogether.
"I actually went to that last audition with red, puffy eyes. I thought I wasn't going to get it…But I did! And I've been with it since," Ashley said.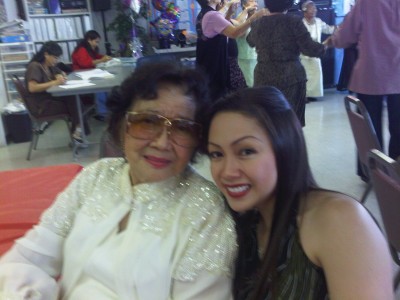 And as a side note, I'd like to make mention of one great woman in my life who taught me about LIFE. To her, LIFE was about LOVE, INSPIRATION, FAITH and ENDURANCE. My grandmother, Milagros Aurelio Alalay, who passed away last March 18th, through her words of wisdom while still alive and the way she conducted herself, taught me to love profoundly, never holding back. She gave freely to all six children and 16 grandchildren and nine great-grandkids. She found joy in simple things in life – dancing, being together with family, taking pictures, taking care of grandchildren. She was a Sto. Nino devotee and gave me my first and only Sto. Nino figure to put in my room. She prayed endlessly and went to mass piously. And though her life, like all of ours, was less than perfect, she held her head high and remained steadfast amid trials. She's at peace now, with our Creator. Thank you for your prayers.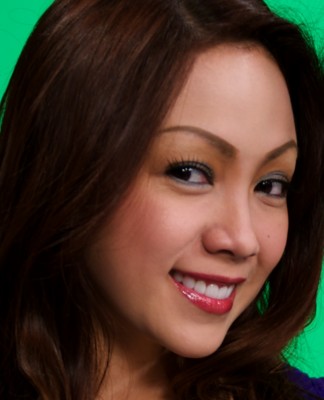 Jannelle So is Host/Producer of "Kababayan LA" that airs daily at 4:30pm on KSCITV-LA18. Catch previous programs at www.youtube.com/kababayanla18. Email her at kababayan@la18.tv.