By Priam Nepomuceno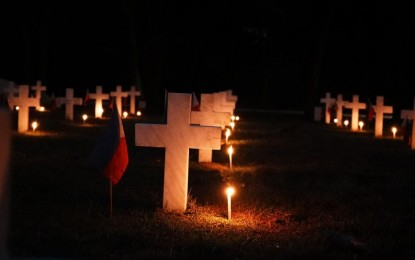 MANILA – About 84,300 people visited the Libingan ng mga Bayani (LNMB) to pay their respects to the Filipino heroes interred there, during the observance of "Undas" from Oct. 31 to Nov. 2.
"On Nov. 1 alone, a total of 42,790 visitors flocked (to the) LNMB during the observance of All Saints' Day. The national cemetery serves as the resting place for soldiers, Philippine presidents, national heroes, patriots, artists, and scientists," Armed Forces of the Philippines (AFP) public affairs office chief, Col. Xerxes Trinidad, said in a statement Thursday night.
The number of visitors at the LNMB on Oct. 31 and Nov. 2 were recorded at 14,681 and 26,829, respectively.
Trinidad said the outpouring of visits at the LNMB is a testament to the enduring spirit of patriotism and gratitude to those who served the nation with unwavering dedication.
These visits, he said, also provided an opportunity for them to reflect on the sacrifices made and to offer their heartfelt tributes.
"The AFP recognizes the importance of preserving the memory of those who have selflessly given their lives for the betterment of our country. As we continue to commemorate their legacy, the military organization reaffirms its commitment to upholding democracy, sovereignty, and freedom for which our heroes have fought," Trinidad said.
No untoward incident
Interior Secretary Benjamin Abalos Jr., meanwhile, said this year's observance of "Undas" was peaceful and orderly.
He commended the Philippine National Police (PNP) and the local government units (LGUs) for ensuring the public's safety across the country during the observance of "Undas", which followed the Barangay and Sangguniang Kabaatan Elections (BSKE).
Abalos said about 3 million people flocked to various cemeteries nationwide on Nov. 1 and 2, but no serious untoward incidents were reported during the annual observance.
"Kudos to the PNP and LGUs for safeguarding Filipino voters as they exercised their right to suffrage during the BSKE, and ensuring a peaceful and orderly observance of 'Undas.' Tunay na kahanga-hanga ang inyong dedikasyon sa paglilingkod (Your dedication to duty is truly praiseworthy)," he added. (with report from Lloyd Caliwan/PNA)