By Ma. Cristina Arayata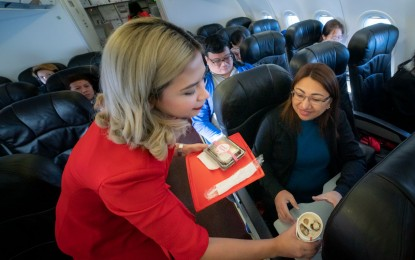 MANILA – Local carriers Philippine Airlines (PAL), Cebu Pacific (CEB) and AirAsia Philippines announced Monday they are no longer requiring face masks on flights.
The move comes as Malacañang announced over the weekend the lifting of the state of public health emergency due to the coronavirus disease 2019 (Covid-19).
"Philippine Airlines welcomes the lifting of the mask mandate and other Covid protocols," said PAL in a statement, adding that this is a significant sign of the normalization of air travel.
The flag carrier added that it will continue to observe safety procedures such as disinfection of aircraft surfaces after every flight, as well as the use of, while HEPA filters and advanced airflow system inside the cabin.
AirAsia Philippines, on the other hand, also announced it will no longer require mask on domestic flights, while the wearing of face mask will remain subject to health protocols in international destinations.
Deep cleaning and aircraft sanitation will still be observed, it added.
"There is no room for complacency in the airline business. We want our guests to feel secure when they fly with AirAsia. Although it is no longer a policy, guests, and crew may still opt to wear face masks whenever they deem necessary," the low-cost carrier said in a statement.
CEB, meanwhile, has announced that the lifting of face mask mandate on flights is in effect starting July 24.
It advised passengers to continue practicing minimum health standards such as disinfecting, hand washing, and physical distancing when necessary.
They are also encouraged to check in online for contactless procedures. (PNA)