By Christopher Lloyd Caliwan and Ferdinand Patinio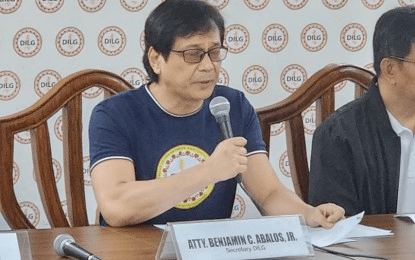 MANILA – Interior and Local Government Secretary Benhur Abalos on Tuesday ordered all losing candidates in the just-concluded Barangay and Sangguniang Kabataan Elections (BSKE) to immediately surrender all government properties under their custody.
Abalos said he signed DILG Memorandum Circular No. 2023-166, stating that "there shall be a transition period not to exceed three weeks to ensure proper and smooth transition of governments, accountabilities and actual turnover of barangay and SK.
Abalos said the three-week period would ensure "natural and proper" transition to the new barangay administration.
According to Abalos, they have written to the Commission on Elections (Comelec) for the timetable of the transition of barangay officials.
Comelec chair George Garcia, in a letter dated Oct. 25, responded that "sitting and incumbent BSK officials shall continue to hold office until their successors have been elected and qualified."
"Therefore, applying this discussion, if the candidate for Oct. 30 BSKE obtained the highest number of votes for the same position and subsequently took their oath, the winning candidate may immediately and effectively assume office," Abalos said during a press conference on Tuesday at the DILG head office in Quezon City.
But, the DILG chief said there could be "problems on the ground" due to transition issues.
"Kung bago ka, kailangan mag-appoint ng treasurer at secretary. Kailangan mo ng resolution from the barangay na ikaw ay magtatayo ng bank account at kailangan mong magpost ng bond. These may take two to three weeks bago mangyari (If you are new, you need to appoint a treasurer and secretary. You need a resolution from the barangay that you will set up a bank account and you need to post a bond. These may take two to three weeks before happening," Abalos explained.
He advised all newly proclaimed barangay and SK officials to coordinate with the DILG officer on the ground to make sure that the inventory of BSK properties, financial records, documents (PFRDs) and money accountabilities are properly turned over to them.
Right of suffrage
In the same press conference, Bureau of Jail Management and Penology (BJMP) jail director Ruel Rivera said that 26,268 or 90 percent out of 29,288 persons deprived of liberty (PDLs) have successfully cast their votes on Monday for BSKE.
"Ang resulta ng BSKE sa ating piitan, 90 percent overall turnout of votes, napakataas. No untoward incidents happened (The results of the BSKE in our jails showed 90 percent overall turnout of votes. This is very high. Also, no untoward incidents happened during the election day)," Rivera told reporters.
Rivera said in line with this, some eight PDLs were likewise able to run, adding that three of them were able to garner the most votes in their respective barangays located in Tanay, Rizal; Dasmariñas, Cavite; and Iponan, Cagayan de Oro.
He did not specify which barangays these candidates ran but clarified that the data came from the partial and unofficial results of the polls.
When asked how these PDLs would serve their respective barangays in case they indeed garnered the most votes, Rivera said the Comelec would still check their records and determine whether a disqualification case would be filed against them before proclamation.
Comelec on Tuesday reported that the proclamation of winners in the BSKE is almost done.
According to Garcia, as of 2:35 p.m., the canvassing of election results is now at 99.47 percent.
He noted that 97.44 percent of the winning bets in 40,927 villages nationwide have already been proclaimed. There are 42,001 barangays all over the country.
At the same time, Garcia added that he already ordered their regional directors who have yet to proclaim the winning bets in the village and youth polls to proclaim them as soon as ballot counting is finished and validated.
"We instructed the regional directors to proclaim the winners at all cost, it should never be delayed or postponed," he said.
The poll body chief said that some proclamation has been delayed as there are candidates that acquired the same number of votes.
To resolve this, he noted they have to draw lots or toss coins in some areas particularly Manila and Northern Mindanao.
Elections on October 31
Garcia said the proclamation of other BSKE candidates has yet to be set as elections have been held in five barangays in Lanao del Sur and Calbayog City, Samar.
No elections were held in these areas as the election paraphernalia were not distributed to polling centers.
Garcia noted that an investigation would be conducted and those who will be held liable may be facing possible sanctions both criminal and administrative.
"Those who cause the delays in the delivery of paraphernalia, we will deal with you," he warned.
He noted that they are also looking to file a case against a local government unit (LGU) official for supposedly violating election law by preventing election officers from canvassing the votes.
Garcia said they are also planning to file charges against the teachers and Philippine National Police (PNP) personnel who decided to back out from serving in the October 30 polls.
Comelec spokesman John Rex Laudiangcon reported that out of 256 BSKE candidates with pending disqualification, 59 won while 67 lost in Monday's BSKE. (PNA)