By Raymond Carl Dela Cruz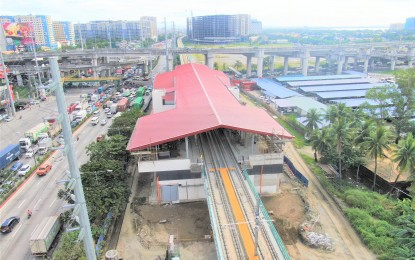 MANILA – The civil and system works of the Light Rail Transit Line 1 (LRT-1) Cavite Extension reached a progress rate of 94.1 percent in the third quarter of 2023, according to its private operator Light Rail Manila Corporation (LRMC).
In a statement Friday, the LRMC said the five new stations under the project are on track to open by the last quarter of 2024.
This includes Redemptorist Station at 86.3 percent completion, the Manila International Airport (MIA) Station at 86.9 percent, Asia World Station (to be connected to the Parañaque Integrated Terminal Exchange (PITX) at 72.9 percent, Ninoy Aquino Station at 81.5 percent, and Dr. Santos Station at 90.5 percent.
"With construction activities in full swing, safety remains the top priority of LRMC for its workers and workplaces by carrying out programs to ensure stringent health, safety, and environmental practices among its employees and contractors," the LRMC said.
To date, the project has accumulated 11.8 million "safe man-hours" without a lost time incident as of September.
LRMC president and CEO Juan Alfonso expressed confidence that the commercial operations of the LRT-1 Cavite Extension project will begin in less than a year.
"The overall progress rate is a good signal to usher the country into an era of modern railway experience where passengers can take advantage of world-class amenities, user-friendly and PWD-friendly facilities, high standards of safety and security, and value-added services," Alfonso said.
The first phase of the Cavite Extension project consists of a 6.7-kilometer extension of the mainline and five stations.
These stations will be near or connected to several other transport hubs such as the MIA, the PITX and a bus terminal in Cavite as well as an interconnection with SM City Sucat. (PNA)