By Raymond Carl Dela Cruz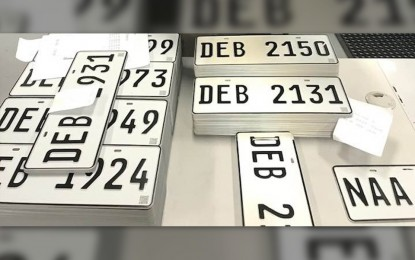 MANILA – The Land Transportation Office (LTO) has ordered 15 million vehicle metal plates to address the current 13.2 million backlog for motorcycles and 179,000 for other motor vehicles.
In a statement, LTO Chief, Assistant Secretary Vigor Mendoza II, said the order was initiated by the Department of Transportation (DOTr) and will be delivered on a monthly basis.
"The delivery has already started. With this, we expect to address the backlog for both motor vehicles and motorcycles on a monthly basis," Mendoza said.
He appealed to the public for understanding and assured that all backlogs, including the registration of new motor vehicles and motorcycles at present, will be addressed by next year.
"Humahabol na tayo kase bumibilis na po 'yung delivery ng plates 'no to the tune of 250,000 pairs every month for the motor vehicle and one million every month for the motorcycle (We are catching up because the delivery of plates is accelerating to the tune of 250,000 pairs every month for motor vehicles and one million per month for motorcycles)," he said.
Mendoza said the LTO's production capacity is also increasing at around 32,000 license plates per day or around 700,000 license plates per month. (PNA)