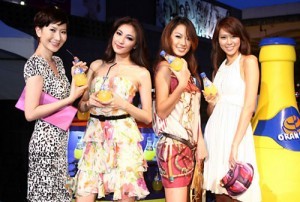 TAIPEI, July 2011 (AFP) – Chinese businesswoman Jiang Guihong devours fashion and is exactly the type of high-spending tourist that Taiwan's high-end retailers are trying to attract – and they are spending millions to do so.
While a political thaw between Beijing and Taipei has been welcomed, shops on the island see the moment more as an opportunity to cash in, with many of them gearing up for a surge in mainland visitors such as Jiang, who spends big.
"I like sightseeing and sampling Taiwanese food but I am really looking forward to going shopping in Taipei," said Jiang, carrying a $1,700 Louis Vuitton bag as she browsed in a duty free store in the island's capital.
Jiang, who said she has nearly 20 other designer handbags, spent more than $3,000 on bags, clothes, cosmetics, perfumes and souvenirs before wrapping up her recent six-day group tour of Taiwan.
Such tours have been happening since 2008 but it is Taiwan's recent decision to allow solo Chinese travellers to visit—the first 300 arrived arrived in Taipei on June 28 — that has led retailers to invest.
The Formosa International Hotels Corporation, intends to spend $10.38 million to renovate the shopping areas at its flagship residence, the Grand Formosa Regent Hotel Taipei, which houses 51 international brands.
"The international companies are stepping up investments in Taiwan because they see real profits here," said the group's public relations director Ellen Chang.
Taiwanese official data shows that more than 2.2 million Chinese visitors have arrived since a new, economy-minded Taipei government relaxed the rules three years ago in an effort to mend ties with Beijing, following decades of marred relations since the two sides split in 1949 after a civil war.
The influx has generated about $3.8 billion in revenue for the island.
Last year, China replaced Japan to become the biggest source of visitors to Taiwan and the allowing in of solo Chinese tourists has seen international and local luxury brands step up their offerings in anticipation of robust demand.
Affluent Chinese shoppers are fond of the island's specialty coral, pearl and jade goods as well as international designer products and luxury watches, which are up to 20 percent cheaper in Taiwan due to lower taxes, sources say.
Lucoral and Lupearl, a leading Taiwanese jeweller which counts celebrity clients including US first lady Michelle Obama, said coral pendants priced at $6,900 apiece have become a top-selling item among the dozen or so Chinese groups which visit its shop daily.
The jeweller, which last year launched a branch in offshore Penghu island, is planning to open several new stores this year to meet growing business, said co-owner Felicia Lu Chen.
The tourism boom is arguably most visible in Taipei's up-scale Hsinyi district, home to the Taipei 101 skyscraper and other shopping outlets, where luxury hotels Le Meridien Taipei and W Hotel joined Taiwanese-Japanese department store Hankyu to open business since last year.
At the mall of Taipei 101, formerly the world's tallest building and a top tourist attraction, construction is under way of new flagship stores and boutiques of major global brands such as Christian Dior, Prada and Bulgari.
About 10 luxury houses will invest at least $3.46 million for each of the new stores due to open starting the third quarter of this year, according to Taipei 101 spokesman Michael Liu.
Last year, Chinese nationals spent at least $34.6 million in the Taipei 101 mall, with the single biggest purchase topping $346,000, Liu said.
"We are looking forward to the opening of solo Chinese tourists as they can spend more time to shop instead of the rush of being with a group," he said.
The jury is still out on whether the solo tourists will be a success, but anecdotal evidence suggests it may pay off.
"I'd like to come back to shop and try more Taiwanese fruits and snacks. I didn't get to see the east coast this time on the group tour," said Guan Yanping, from Guangdong, who bought a Burberry bag on her first Taiwan trip. ■