By Jean Malanum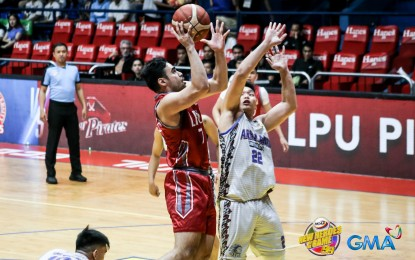 MANILA – Mclaude Guadana and John Barba scored 17 points each to lead Lyceum of the Philippines University past Arellano University, 98-86, as the Pirates gained the twice-to-beat incentive in the semifinal round of the NCAA Season 99 men's basketball at Filoil EcoOil Centre in San Juan City on Sunday.
The Pirates rose to 13-4 behind leaders Mapua Cardinals (14-3). Both will need to beat their opponents just once to set up a finals match.
Shawn Umali and Enoch Valdez also registered double-digit scores of 15 and 11 for Lyceum, which took an 80-65 lead at the end of the third quarter.

Jade Talampas finished with 20 points, nine rebounds, two assists, two steals and one block for Arellano (2-15).
In the other game, College of Saint Benilde leaned on Miguel Oczon to pull off a 72-54 win over last year's champion Letran.
The Blazers stayed in third place with an 11-6 mark, half a game ahead of fourth-running San Beda University (10-6).
Oczon had 12 points, including four triples in the second half.
Miguel Corteza and Mark Sangco paced Saint Benilde with 13 points each.
Kobe Monje had 18 points and nine rebounds for the Knights who are tied with the Chiefs at the bottom. (PNA)