By Priam Nepomuceno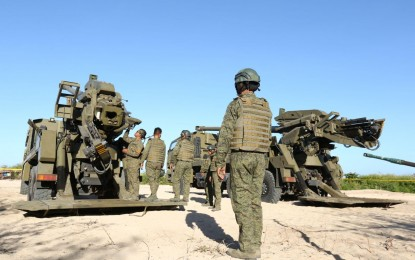 MANILA – Major weapons systems of the Armed Forces of the Philippines (AFP) such as the newly-acquired Israeli-made Autonomous Truck Mounted Howitzer System (ATMOS) 155mm self-propelled guns along with modern attack aircraft and helicopters participated on Wednesday's live-fire exercise in Burgos, Ilocos Norte.
The drill is part of the ongoing AFP Joint Exercise "Dagat-Langit-Lupa" (AJEX DAGIT-PA).
AFP chief Gen. Romeo Brawner Jr. witnessed the event that featured the newly-acquired artilleries of the Philippine Army and the Philippine Marine Corps working in tandem with the Philippine Air Force's AW-109 and A-29B 'Super Tucano' (attack) aircraft," AFP public affairs office chief Col. Xerxes Trinidad said in a statement.
The exercise tests demonstrate the capability of AFP major services to conduct joint territorial defense operations and highlight the seamless integration of different military units and platforms.
Brawner earlier said this year's AJEX "DAGIT-PA" will beef up the AFP's capabilities in dealing with "emerging threats". It is scheduled to end on Nov. 17.
"In this exercise, we will fortify our territorial defense posture, sharpen our external security capabilities and respond to emerging threats with unparalleled precision," the AFP chief stressed.
More than 1,500 active and reserve personnel from the Army, Air Force, Navy, Marines, Special Operations Command and Cyber Group are taking part in this year's iteration of AJEX "DAGIT-PA". (PNA)