By Joyce Ann L. Rocamora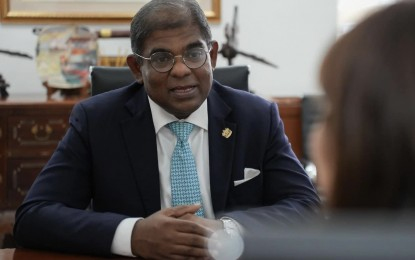 MANILA – Malaysia is expecting enhanced engagements with the Philippines as it renewed its commitment to do its part in developing cooperations in the areas of the halal industry, agriculture, green technology, and digitalization.
At the Malaysian National Day reception in Makati City on Friday night, Malaysian Ambassador Dato' Abdul Malik Melvin Castelino said the two nations are at a point where their bilateral relations are "at its peak."
"Remarkably, this is the year where both our leaders officially met twice within a span of not less than six months. The Philippines was one of the first countries that invited Prime Minister Anwar Ibrahim right after he was elected," Castelino said.
He shared that at the time it was proposed, Malacañang agreed in less than 24 hours, indicating how "special" the relationship is between the two leaders.
President Ferdinand R. Marcos Jr. hosted a state visit for Prime Minister Anwar on March 1-2.
Barely four months after, Anwar hosted a state visit for Marcos on July 25-27.
"This, to me, is truly special – and I am happy to be a part of the history to witness this momentous elevation of our country's relationship. The two leaders agreed to focus collaborations on halal industry, agriculture, digitalization, and green technology," he said. "I can say that today, our bilateral relations are at its peak."
In March, Marcos and Anwar agreed that reinvigorating trade and investment exchanges would help the two countries navigate through the ongoing impacts of the pandemic and the changing geopolitical landscape in the region.
The Philippines is hoping to tap the huge halal market, the global market size of which was valued at more than USD2 trillion in 2022.
Malaysia is also seen as an ideal partner for Manila as the government seeks to accelerate digitalization in the country.
READ: Digitalization key to strengthening PH-Malaysia ties: envoy
Malaysia's digital economy – derived from the traditional economic activities that utilize digital technologies – has contributed 23.2 percent to the national gross domestic product.
By 2025, the figure is expected to rise to 25.5 percent.
Castelino also highlighted the strong people-to-people relations between the two states as reflected in the high turnout of Malaysian businesses at the reception.
"Your openness and friendship exemplify the spirit of diplomacy and togetherness, where people come together to build bridges of understanding and work towards common goals," he said.
"It is through the exchange of ideas, the sharing of experiences, and the forging of friendships that we grow as individuals and as nations." (PNA)