By Ferdinand Patinio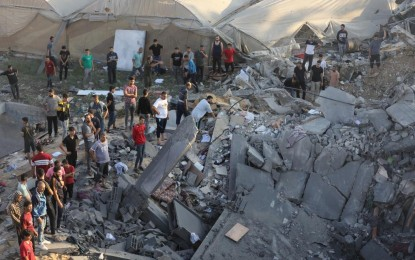 MANILA – The Archdiocese of Manila has asked churches for a "holy hour" to pray for peace in the Holy Land.
"In solidarity with our brothers and sisters in the Holy Land, we request that our parishes and communities gather our people for prayer like the Adoration of the Blessed Sacrament/Holy Hour and the praying of the rosary on October 17, 2023 or any day your community decides," it said in a circular dated Oct. 14 and released on Monday.
The archdiocese added that it will be sending the special prayer prepared by its Archdiocesan Liturgical Commission.
The circular said the order is in accordance with the call of Latin Patriarch of Jerusalem Pierbattista Cardinal Pizzaballa for prayer and fasting for peace in the Holy Land.
"On behalf of all the Ordinaries of the Holy Land, I invite all parishes and religious communities to a day of fasting and prayer for peace and reconciliation. We ask that on Tuesday, October 17, everyone hold a day of fasting, abstinence, and prayer. Let us organize prayer times with Eucharistic adoration and with the recitation of the Rosary to Our Blessed Virgin Mary," it also read.
About 1,300 Israelis have been killed while 1,949 fatalities have been recorded in Gaza and the West Bank, two of the territories under the State of Palestine, in the conflict that erupted on Oct. 7.
The Department of Foreign Affairs (DFA) has ordered the mandatory evacuation of Filipinos in Gaza after raising the alert level to 4. (PNA)