With little exception, the Wild Card Gym parking lot is packed with fans when Manny Pacquiao trains there. On his last day of training before heading out to Dallas for his much anticipated bout with Antonio Margarito, the crowd had swelled so much that it merited the presence of the Hollywood Police, two on bikes and four on patrol, to help Manny's own security people with crowd control.
Also present was an armada of television crews, including the crew of HBO's "24/7 Pacquiao-Margarito", ABC-CBN's crew, a documentary film crew, among others.
Amid chants of "Manny, Manny", the seven-world titleholder emerged from the gym to join his fans, and to grace an informal ceremony for a cause that's closest to the Champ's heart.
Surrounded by an appreciative crowd, Manny was presented a check for $10,000 made out to the Manny Pacquiao Foundation by Harlan Gittin, Owner and General Manager of Toyota of Glendale and Tustin Toyota. The funds were raised this past summer when a partnership between GOT (Glendale Or Tustin) Toyota and the Manny Pacquiao Foundation was launched to help with the foundation's anti-illiteracy programs in the Philippines.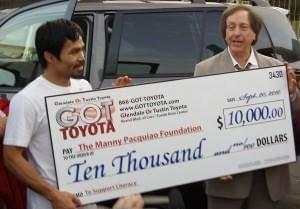 "Manny Pacquiao represents hope and hard work overcoming the most insurmountable of challenges – poverty," Harlan Gittin replied when asked by HBO's 24/7 crew what Manny Pacquiao means to people. "My organization has been in the service of the Filipino Community for many years; it is our honor to support the efforts of Mr. Pacquiao in helping to give impoverished children in the Philippines the education they need for a better future."
Watch the interview and the coverage on HBO's "24/7 Pacquiao-Margarito" on Friday night at 9:30pm PST, the night before the showdown.
This past summer, GOT (Glendale Or Tustin) Toyota committed to making a donation to the Manny Pacquiao Foundation for every new vehicle sold to customers who mention Manny's name and who wish to be a part of the fundraising efforts. The first round ended July 31st, resulting in the $10,000 donation presented to Manny Pacquiao. The program is ongoing, with a new awareness campaign about to be launched in the Filipino community in a few weeks.
Present at the mini-event were Edwin Yu and Woody Sebastian representing the Filipino Departments of Glendale and Tustin Toyota (respectively). "We want our community to know about our "Pac-Man Lease Specials" – ito'y especial na ipina-design namin sa aming mga finance managers at lenders para sa aming mga Pinoy customers. Pinaka-flexible ang terms nito at base sa mababang presyo. Malaking tulong ito lalo na sa mga panahong ito at para doon sa mga first time buyers".
Woody Sebastian of Tustin Toyota echoes the sentiment. "Sa programa po na ito, hindi typical na 'retail' deal ang asahan ninyo! Parang Club pricing nga po, especially designed to help with make car buying easy for our customers, and allow them to help the Manny Pacquiao Foundation when they make a purchase."
Both dealerships are giving away Manny Pacquiao stickers to anyone who wants to show their support for Manny Pacquiao. Just come by and ask for Edwin Yu at Glendale Toyota or Woody Sebastian at Tustin Toyota.
Before disappearing into the nearby Thai Restaurant for much needed nourishment, Manny thanked Harlan Gittin for GOT Toyota's support and sponsorship, expressing his appreciation to his Kababayans who have responded by giving GOT (Glendale Or Tustin) Toyota a chance to earn their business.
With that, the crowd cheered for the Champ, showing support and well wishes on this his final day of training in Los Angeles.