By David Casuco
Balita Media News Service
HOLLYWOOD – Eight-division boxing champion Manny Pacquiao, who is slated to face American Shane Mosley in a Vegas megabuck title fight on May 7, was 10 minutes late for the 2 p.m. workout for the media Wednesday, but still remarkably early in the laid-back Philippine time standards. The Filipino lawmaker, with his entourage in tow, came in wearing the now familiar grin that endeared him to the sports scribes worldwide.
The stuffy air inside the standing room only Wild Card Gym did not bother the media people who were there essentially for two reasons – watch the champ display a sampling of his vaunted speed and power and listen to what he has to say.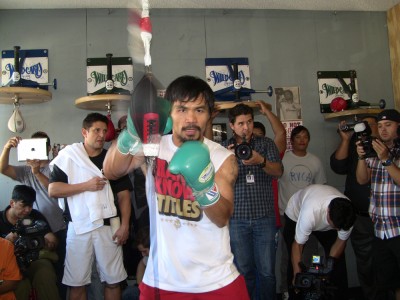 Some ten minutes later, Pacquiao emerged from the dressing room and faced the phalanx of sportswriters and photojournalists around the ring to answer a myriad of questions ranging from training to training distractions, from lawmaking to statecraft, from Mosley to Mayweather. All these questions, the Pacman obliged to answer in his usual bashful and self-effacing manner.
Most of the questions were concerning Pacquiao's training in Baguio, probably because the last time he trained during his fight with Antonio Margarito, there were serious distractions that made his camp a little nervous. This time, Pacquiao told the media, it is quite different, implying that he got used to juggling boxing and government duties.
"I do not distract myself. I am focused on my training. I am ready for the fight (vs. Mosley). I am adjusting well to my work as a politician," he said. "This training camp is better because we started early, and also (there were) no distractions for this fight. Also, we did a lot (working) on strategies. Compared to my training with Margarito, we did some adjustments in regards to style."
Then the five-minute showcase of his speed and power –pretty much in there. The chorus of ohhhs and ahhs from the mesmerized mediamen validated the reality that the Pacman is in razor sharp form.
But why is he visibly excited? Pacquiao, who has a band and sings fairly well, revealed to sportswriters that he is excited because his new CD single/DVD "Sometimes When We Touch" is set for release on April 28, and it will be available on iTunes. The song by Dan Hill, which topped the chart in 1977, was recorded by Pacquiao with the collaboration of Dan Hill himself. Hill saw Pacquiao sang his song in Jimmy Kimmel show last year, and the idea of re-recording it with the voice of the one of the most famous celebrity was hatched.
Earlier, Roach, responding to a question from this writer whether it is safe to say that his prized ward is "ready and confident," said that Manny's camp this year is way better than last year.
"For this fight Manny has been able to stay totally focused compared to his last fight when he had to worry about a lot of things – campaigning, music, and making movies."
Said Winchell Campos, Pacquiao's personal biographer: "He has never underestimated his opponents. So, he will come in 100 per cent. No excuses."
And for that quintessential "fighting with Floyd Mayweather" question, Pacquiao said "There is a chance. It is up to him if he wants to fight. He is (probably) trying to wait for me till I get older."
The Pacquiao vs. Mosley megabuck world welterweight title fight is the main event of aTop-Rank four-fight boxing card at the MGM Grand Arena, Las Vegas on Saturday, May 7, which will be telecast live by SHOWTIME PPV® beginning at 9 p.m. ET / 6 p.m. PT. Balita Media Inc.'s website is balita.com.