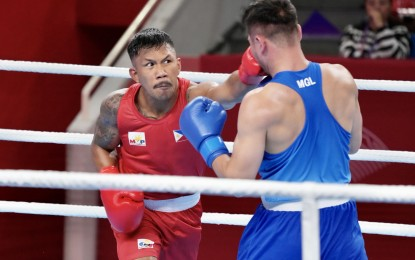 HANGZHOU, China – Eumir Marcial came through with a dominant showing in his light heavyweight debut, but Irish Magno bowed out of contention as the two Olympians suffered contrasting fates at the start of the boxing competitions in the 19th Asian Games here.
Marcial, 27, scored an overwhelming 5-0 victory over Dalai Gadzorig of Mongolia at the Hangzhou gymnasium to advance to the Round of 16 of the men's 80 kg class.
The Filipino went up in weight from being a middleweight, where he won a bronze medal in last year's Tokyo Olympics.
While he felt good in his first bout, the Zamboanga City native has yet to fully determine if he's fit to fight in his new class.
"Ok naman 'yung galaw ko, pero 'yung fighting weight ko talaga middleweight. Mas komportable talaga ako dun," said Marcial. "Hindi pa natin alam. 'Yung mga susunod na laban natin, pabigat na ng pabigat 'yung mga kalaban."
Earlier, the 32-year-old Magno was outclassed by the younger Nigina Uktamova of Uzbekistan, 5-0, in the women's 54 kg class.
"Pinaghandaan talaga namin kung ano 'yung fight plan, pero hindi tayo pinalad," said the Tokyo Olympian of 21-year-old Uktamova, a former gold medal winner in the World Youth Boxing Championship.
The losses of Magno and Aira Villegas left Olympic silver medalist Nesthy Petecio to carry the fight for the women's boxing team.
The former world champion is set to see action on Sept. 29 against top seed Lin Yu Ting of Chinese-Taipei in the 57 kg class.
In tennis, Alexandra Eala completely dominated Sarah Ibrahim Khan in her Asiad debut, blanking her Pakistani foe, 6-0, 6-0, at Hangzhou Olympic Sports Centre.
It took only 39 minutes for Eala to bring down the 32-year-old Khan and progress to the next round of the women's singles either against Kazakhstan's Aruzhan Sagandykova or India's Rutuja Bhosale.
"It was a great game and it was good for my confidence,'' said Eala, 18. "I think I came in with a great attitude and a great mindset."
5 judokas wiped out
In judo, Kiyomi Watanabe and four other Filipinos suffered crushing losses at the Xiaoshan Linpu Gymnasium.
Watanabe, a silver medalist in 2018 Jakarta Asiad, fell prey to a Japanese powerhouse in the quarterfinals to bomb out of medal contention in the women's -63-kilogram class.
Two-time world silver medalist Miku Takaichi flaunted her strength as she threw the 27-year-old Watanabe for an ippon in the first 12 seconds and booked a slot in the semifinals.
Watanabe was relegated to repechage but lost to Esmigul Kuyolova of Kazakhstan, also via ippon in the firs 13 seconds.
"Our athletes are in good condition," Philippine Judo Federation secretary deneral Dave Carter said. "But we got unlucky in the draw. Our athletes got paired against the top seeds in Asia. We will work hard and be more prepared next time."
Also bombing out early were Keisei Nakano, Rena Furukawa, John Ferrer and Ryoko Salinas.
The 26-year-old Nakano lost to Asian Games silver medalist Behruzi Khojazoda of Tajikistan via ippon in the Round of 16 of the men's -73-kg, while Furukawa fell prey to Momo Tanaoki of Japan also via ippon in the Round of 16 of the women's -57-kg event.
Ferrer sizzled early as he beat Janga Bahadur Saru of Nepal in the Round of 32 of the men's 81-kg class but bowed to Bolor-Ochir Gereltuya of Mongolia in the Round of 16.
Salinas also had a good chance when she beat Garima Choundhary of India in the Round of 16 of the women's 70-kg class.
She, however, surrendered to Shiho Tanaka of Japan, who posted an ippon in the first 45 seconds to secure a spot in the semifinals, before losing to Liao Wun Jung of Chinese Taipei in the repechage to close his Asiad stint on a sour note.
Carl Dave Aseneta and Dylwynn Gimena will compete on Tuesday.
Superior foes
In Chun'an, Zhejiang Province, Shagne Paula Yaoyao finished eighth and Arian Evangelista fell two laps behind in the women's cross-country Olympic race of cycling's mountain bike (MTB).
"They're like robots," Yaoyao said of China's Li Hongfeng and Ma Caixia, who took gold and silver, respectively, finishing the technical race still looking ready for more.
Li won in one hour, 30 minutes and 59 seconds to improve on the silver she clinched in Indonesia five years ago, while Ma crossed six minutes for the silver but with a six-minute gap ahead of bronze medalist Faranak Partoazar of Iran.
Yaoyao wound up seventh in the 15-rider field with a 26-minute gap behind Li.
"But I'm happy with my result, I really did my best here and I didn't expect to land in the top 10," said Yaoyao, a bronze medalist in MTB's mixed relay in the Cambodia Southeast Asian Games last May.
She competed in the UCI world championships along with Evangelista last month in Scotland but raced in her first Asian Games.
For Evangelista, it was tough luck. Her front tire had reduced pressure and her rear was flat. She had to run her bike 2 km to the feed zone to have both replaced, thus losing two laps in the event raced over a 4.8-km loop.
She had to be pulled out of the race along with three others.
With MTB done, the country's campaign in cycling reverts to BMX racing with 2014 Incheon Asiad gold medalist Daniel Caluag teaming up with Patrick Coo on Oct. 1.
Ronald Oranza, Jonel Carcueva and Joshua Pascual vie in Road on Oct. 6.
Amparo Acuña, meanwhile, came close to the Philippine record when she fired a total of 618.8 points in the qualification round of the women's 10-meter rifle event in the shooting competitions at Fuyang Yinhu Sports Center.
Acuña shot rounds of 102.1, 102.9, 105.1, 103.4, 103, 101.5 to almost match the national mark of 622.2 she achieved in the Asian Championships last March.
Her effort, however, wasn't enough to clinch a seat in the final round as she finished 42nd in the 59-shooter field, where only the top eight advanced.
Coach Julius Valdez said her performance was average, adding he has yet to confirm if Acuña earned ranking points needed to qualify for the 2024 Paris Olympics. (PSC-POC Media Group/PNA)