By Ruth Abbey Gita-Carlos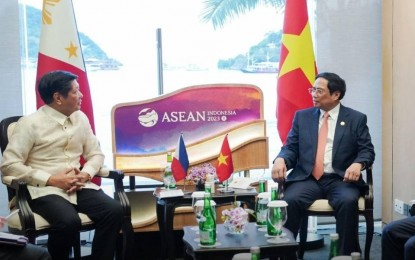 MANILA – President Ferdinand R. Marcos Jr. and Vietnamese Prime Minister Pham Minh Chinh have agreed to elevate the Philippines and Vietnam's cooperation in the fields of trade and investment, tourism, agriculture, and defense and security.
The commitment was made when the two leaders held a bilateral meeting on the sidelines of the 42nd Association of Southeast Asian Nations (ASEAN) Summit and Related Summits in Labuan Bajo, Indonesia on Wednesday.
Based on a news release by the Presidential Communications Office (PCO) on Thursday, Marcos expressed confidence that the two countries are already "ripe" to step up their cooperation.
"I think that the market is ripe for continued development in the areas of course as I mention," Marcos, as quoted by the PCO, told Pham.
Marcos lauded the "flourishing" trade not just between the Philippines and Vietnam but also with other countries, particularly in agricultural products.
Trade in agricultural goods, Marcos said, has become a "very important" part of the Philippines' food supply.
Acknowledging the two countries' improved relationship with the help of the private sector, Marcos stressed the need for both governments to step up their partnership which should be "beyond just in trading in rice."
Pham assured Marcos that Vietnam would work with the Philippines on trade promotion to continue diversifying supply chains and trade between the two countries.
"And if you can ensure a long term strategic cooperation in the provision of such goods and ensure stability both in terms of the goods themselves and have their price, that would help us to be better [and] resilient to external shocks in the years to come," Pham told Marcos.
Marcos also considered Vietnam as an "important partner" in reviving Philippine tourism, a sector that plays a key role in helping the economy recover after the coronavirus pandemic.
"So I think that this is an important area… for us to develop stronger relations. Because that is the way that we will derive strength from each other, from ASEAN, from our member-states, from also our agreements that we make between the two countries," he said.
Marcos likewise expressed readiness to establish better communications between the two nations' foreign service and military leaders.
Pham, on the other hand, asked for the Philippines' support on Vietnam's candidacy for various United Nations (UN)-led organizations, including the UN Human Rights Council, UN Security Council, UN Commission on International Trade Law and the presidential seat for the UN General Assembly's 91st session.
The Philippines and Vietnam formally established diplomatic relations on June 12, 1976. (PNA)