By Ruth Abbey Gita-Carlos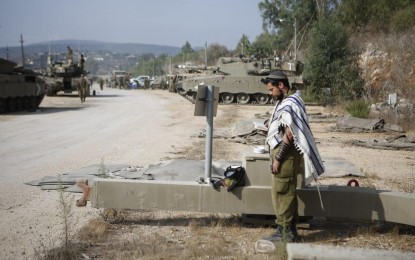 MANILA – President Ferdinand R. Marcos Jr. on Wednesday deplored the deaths of two Filipino nationals amid the escalating conflict between Israeli forces and the Palestinian militant group Hamas.
"My heart is heavy upon hearing confirmation of the deaths of two Filipinos in Israel. The Philippines condemns these killings and stands firmly against the ongoing terror and violence," Marcos said in a statement.
Communications Secretary Cheloy Garafil said the President has pledged continued support for Filipinos affected by the ongoing Israel-Hamas conflict.
"The President also emphasized that the Philippine government will not cease sending support to affected overseas Filipino workers (OFWs) and the Filipino community affected by the ongoing conflict between the Israeli forces and Hamas," she said.
On his official X (formerly Twitter) account, Department of Foreign Affairs (DFA) Secretary Enrique Manalo confirmed on Wednesday the killing of two Filipino nationals in the ongoing Israel-Hamas conflict.
Manalo, however, has yet to release more details, including where the Filipinos were killed.
Marcos said the Philippine government would remain resolute in the pursuit of lasting peace, in line with the United Nations resolutions and international laws.
There are more than 30,000 Filipinos in Israel and 137 in Gaza, according to the latest DFA data.
In its latest bulletin on Oct. 11, the Philippine Embassy in Tel Aviv said at least six Filipinos remain unaccounted for in Israel.
The DFA on Tuesday said about 38 Filipinos in Gaza are seeking repatriation.
Marcos earlier instructed the Department of Migrant Workers and the Overseas Workers Welfare Administration to locate and account for all OFWs and their families in Israel.
He had also instructed all agencies involved in protecting the welfare of the OFWs and the Filipino community to work closely with the Philippine Embassy in Tel Aviv and the Migrant Workers Office in Israel to ensure their safety.
Gov't assistance assured
Department of Social Welfare and Development (DSWD) Secretary Rex Gatchalian assured all possible assistance would be given to the families of the two Filipino victims.
He has directed the DSWD Operations Group, headed by Undersecretary Pinky Romualdez, to locate the families.
"Can we get in touch with DMW (Department of Migrant Workers). Find the families here. Send our teams of grief counselors. Then let's extend all possible financial assistance," Gatchalian told Romualdez.
Assistant Secretary for Strategic Communications Romel Lopez said financial aid under the Assistance to Individuals in Crisis Situations (AICS) program is available.
"As the department helps individuals through these difficult times, psychosocial counseling will work hand in hand with financial support to ensure a comprehensive approach," Lopez said. (with a report from Zaldy De Layola/PNA)