By Anna Leah Gonzales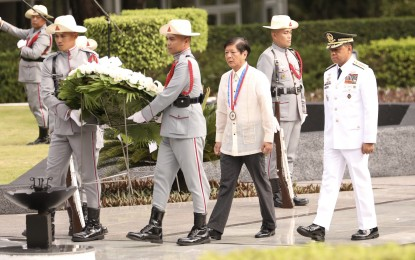 MANILA – President Ferdinand R. Marcos Jr. on Monday paid tribute to the unsung heroes who dedicated their lives to public service.
"In our journey forward as a nation, we must break free from the notion that heroes are only those who have earned a place in the National Pantheon, immortalized in monuments, or those whose names are inscribed in streets, or whose lives are chronicled in biographies," Marcos said in his speech during the National Heroes Day commemoration rites at the Libingan ng mga Bayani, Taguig City.
"While the memories of our heroes of our storied past will never fade, new ones continue to emerge. They are here amongst us, in the daily bustle of modern-day society, in our communities, in our own families and inner circles," he added.
Marcos recognized the heroism of electric linemen, teachers, farmers, and overseas Filipino workers (OFWs) and urged Filipinos not to forget them and to continue to tell the world the tales of their heroic deeds with genuine appreciation and of promise to emulate their actions and do better.
"We shall not take their heroism for granted. We will not spare ourselves of the moral duty to perpetuate the ideals that they have fought for, and to rectify the unsafe, inequitable, or exceptionally difficult conditions that necessitated their selfless deeds," Marcos said.
"Failing in our duty, their sacrifices would have been all in vain. Collectively, their heroic acts, small or large, go a long way and make our country and the world a better place. To them, we once again earnestly dedicate this special day," he added.
The President also urged the Filipino people to collectively recall the heroic deeds of those who fought for the country's honor and dignity.
"From the warriors of old, revolutionary thinkers, war veterans, and the countless patriots who have helped shape the Philippines into becoming free, independent, and self-determined, to them we are eternally grateful," he said.
In his speech, Marcos also recognized the contributions of the late Migrant Workers Secretary Susan "Toots" Ople in promoting the welfare of OFWs.
Ople died on Aug. 22 at the age of 61.
"We must mention a dear and departed friend who we can only describe as well as a hero and that is our good friend who we just lost, Secretary Toots Ople. And she is a perfect example of what true heroism can be. She tirelessly dedicated the better part of her life to promote the welfare of our modern-day heroes," Marcos said.
The National Heroes Day celebration on Monday was also attended by House Speaker Martin Romualdez, Executive Secretary Lucas Bersamin, Apostolic Nuncio to the Philippines Archbishop Charles John Brown, National Defense Secretary Gilberto Teodoro Jr., Presidential Communications Secretary Cheloy Velicaria-Garafil, and National Historical Commission of the Philippines (NHCP) Chairman Emmanuel Calairo.
Armed Forces of the Philippines (AFP) chief of staff General Romeo Brawner Jr., Taguig City Mayor Laarni Cayetano and other government officials were also present during the event. (PNA)