By Ruth Abbey Gita-Carlos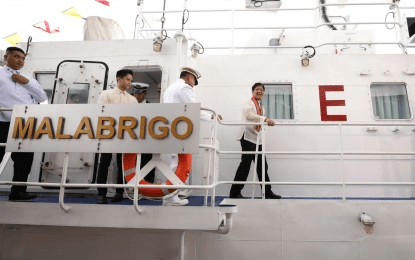 MANILA – President Ferdinand R. Marcos Jr. on Tuesday expressed full support for the modernization of the Philippine Coast Guard (PCG) to better protect the country's maritime domain.
On the sidelines of the PCG's 122nd founding anniversary celebration at South Harbor's Pier 15 in Port Area, Manila, Marcos emphasized the need to improve the Coast Guard's capabilities to enable them to defend the country's maritime security and rights.
"Makikita naman natin na nag-i-increase ang ating capability para makapag-defend sa maritime, sovereign territory ng Pilipinas (We can see that we are increasing our capability to defend the maritime, sovereign territory of the Philippines)," he said.
"So, we are continuing with the upgrading of the equipment, the training, and the capabilities of all our people, especially the Coast Guard not only because they are on the front line in the problems now that we are facing in the West Philippine Sea, but also because of the very important function that they play when it comes to search and rescue, when it comes to maritime incidents, when it comes to even disaster assistance."
In his keynote speech, Marcos thanked the PCG for its efforts to protect the country's vast maritime territory, as well as Filipino fisherfolk.
Marcos said the Coast Guard personnel's integrity, discipline, and professionalism have helped his administration advance its collective vision of a "stronger, more harmonious, and more resilient Philippines."
He urged the PCG to continue its close coordination with other concerned agencies, as it fulfills its "extremely valuable and important" mandate.
"Be assured that this administration firmly stands with you in your plans and efforts to improve, expand, and modernize the capabilities and services so that you may better contribute to the security and welfare of our people and of the nation together," Marcos said.
"The Philippines is lucky as we have many friends around the world and marami sa ating mga kaibigan na karatig bansa at kahit na 'yung galing sa malalayo ay tinutulungan tayo para pagandahin at patibayin ang ating Coast Guard (many of our friends from neighboring countries and even those from far away are helping us improve and strengthen our Coast Guard)."
PCG commandant Admiral Artemio Abu noted that the PCG has responded to more than 500 maritime incidents from January to September 2023.
Abu said the PCG has stood its ground in the face of adversity in the WPS, handling "positively" the provocations, bullying, and harassment of vessels on every re-supply mission to the Philippine Navy's BRP Sierra Madre anchored near Ayungin Shoal.
"Our personnel have courageously dismantled the foreign floating barriers, which were illegally installed in the West Philippine Sea. We installed additional navigational buoys, which also serve as markers of Philippine territory," he said.
In honor of outstanding personnel, Marcos conferred the PCG Anniversary Awards on 13 employees and units.
Marcos also received a Dynacast high-speed boat as a token of gratitude.
The 30,000-strong PCG is the country's primary maritime search and rescue organization, enforcer of maritime laws, guardian of maritime safety, protector of the maritime environment, and defender of maritime security. (PNA)