By Filane Mikee Cervantes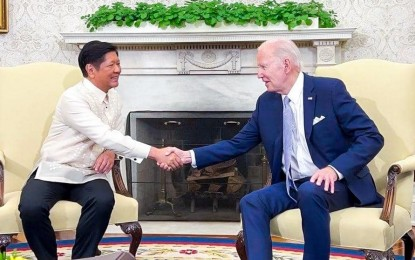 MANILA – President Ferdinand R. Marcos Jr. said Thursday his five-day official visit to the United States has yielded at least USD1.3 billion (PHP71.8 billion) worth of investment pledges that have the potential to create about 6,700 new jobs for Filipinos.
In his post-visit report, Marcos said he was able to entice numerous American business groups to either expand their operations or create new ventures in the Philippines, noting that these investment pledges are a sign of trust and confidence in doing business in the country.
"They are all committed to be part of this development journey that we have embarked upon. We will return to the Philippines with over USD1.3 billion in investment pledges that have the potential to create around 6,700 new jobs for Filipinos within the country," Marcos said.
"When realized, these investments will support our country's economic recovery efforts and further strengthen the foundations of our economic environment. We expect even more investment that will materialize once these companies firm up their plans."
The President said the government could work with these investors to address the country's key economic challenges, particularly food, energy, health security, digital connectivity, and the crosscutting issues of climate change and pandemic preparedness.
PH to 'follow through'
Marcos also described his high-level discussions with US officials as "productive," noting that the Philippines would follow through on these agreements.
"I look forward to having our respective teams follow through on the many areas of cooperation that we have identified, which will help advance our key priorities with respect to agriculture and food security, promoting energy security as we transition to clean energy, and boost trade and build resilience of our supply chains, enhancing connectivity and digitalization, also climate change mitigation and adaptation," he said.
He welcomed the initiatives of the US government and its business leaders to "expand collaboration with the Philippine government and our universities to support the continued growth of local talent."
During his policy speech at the Center for Strategic and International Studies (CSIS) in Washington, DC, Marcos said the strengthened partnerships between Manila and Washington on digital infrastructure, food security, health, and clean energy would have a high growth potential and provide the most benefits to both nations.
He particularly highlighted that the advancement of the Philippines-US common climate agenda, energy, and green metals cooperation would be an important piece of engagement.
Marcos said the country is interested in becoming a strategic partner of the US in terms of metal processing for American battery application and development.
"The increased deployment of clean technologies comes with an increase in demand for inputs of crucial energy resource minerals, including cobalt, nickel, which just happens to be very abundant in the Philippines," he said.
Marcos said the Philippines is willing to work with the US government under its Inflation Reduction Act and help the sources of raw and processed materials for battery production and complement its "National Blueprint for Lithium Batteries."
Nuclear energy
Marcos is also looking at progressing discussions with US companies that offer nuclear technologies for government and commercial use, while both countries continue cooperation on other capacity-building initiatives under other strategic civilian nuclear cooperation memorandum of understanding.
He told US President Joe Biden that he sees the process as a "critical undertaking technical cooperation" and possible US investments in the adoption of geographic information systems, remote sensing, and artificial intelligence in the baselining and change detection of terrestrial, coastal, and marine ecosystems.
"This will aid us as we establish our own geospatial database and equip us to move towards strengthening science-based policy-making in our country," he added.
The CSIS is a bipartisan, nonprofit policy research organization dedicated to advancing practical ideas to address the world's greatest challenges.
Joining the President were House of Representatives Speaker Martin Romualdez, Foreign Affairs Secretary Enrique Manalo, Philippine Ambassador to the US Jose Manuel Romualdez, Department of National Defense Officer in Charge Carlito Galvez Jr., Environment Secretary Maria Antonia Yulo-Loyzaga, Trade Secretary Alfredo Pascual, Communications Secretary Cheloy Velicaria-Garafil, and Special Assistant to the President Secretary Antonio Lagdameo Jr. (PNA)