By Joann Villanueva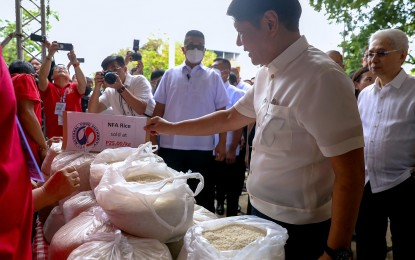 MANILA – President Ferdinand R. Marcos Jr. is optimistic for the stabilization of the country's rice supply following Vietnam's offer for a five-year importation pact.
During the bilateral meeting between Marcos and Vietnamese Prime Minister Pham Minh Chinh at the sidelines of the 43rd Association of Southeast Asian Nations (ASEAN) Summit in Jakarta, Indonesia on Thursday, the Vietnamese official suggested that the importation agreement "will be determined by the market."
Marcos welcomed the offer, noting the volatility in rice supply, a staple food in the country.
"The suggestion of a longer term arrangement is an important one because just having that as an assurance will stabilize the situation, not only for the Philippines but for all of us in the region," he told Pham, expressing his optimism for the eventual materialization of an agreement.
In 2008, the Philippines and Vietnam inked a Memorandum of Agreement (MOA) for the sale of up to 1.5 million metric tons of Vietnamese rice from 2008-2010.
However, the Philippines' Rice Tariffication Act or Republic Act (RA) 110203 was enacted in March 2019 and this allowed commercial importation by adopting the general tariff rule and removed the quantitative restrictions.
Although the said law prevented a government-to-government rice importation arrangement, around 90 percent of imported rice in the domestic economy still comes from Vietnam.
PCO said some 1.5 million tons of rice, worth USD772.4 million, was imported from Vietnam as of last May.
It said Marcos also raised a possibility of a fishery and maritime cooperation between the two countries "because it (the agreement that Philippines suggested) should not limit itself only to security and defense issues but also on the fishing rights."
Relatively, the Philippines is considering greater cooperation with Cambodia in terms of food security, trade and commerce and people-to-people exchanges.
Marcos, during a meeting with Cambodian Prime Minister Hun Manet at the sidelines of the ASEAN event, suggested for a possible rice importation with its regional peer.
He also asked for a commercial aviation deal between the two countries.
"I am a great believer of multi-lateral discussions but I also give equal importance to bilateral arrangements that we might do. Once again, I'm very happy to have had this exchange and I think, as I said, we've already identified so many areas that we can start off with," he told Manet, citing "so much room for growth, so much room for partnership."
In the first five months this year, the Philippines imported some 2,500 tons of rice from Cambodia through the Rice Tarrification Law.
Cambodia targets to account for 1 percent of the Philippines' rice imports by next year.
Marcos is also open to the expansion of airline flights between the two countries. (PNA)