LOS ANGELES, October 29, 2010 (AFP) – Antonio Margarito still carries the stigma of the hand-wrap scandal that netted him a ban from boxing, but the Mexican fighter hopes to atone for his sins with a win over Filipino Manny Pacquiao.
Margarito will step into the ring for the first time in the USA since he was caught using illegal gloves when he takes on Pacquiao November 13 for the vacant World Boxing Council 154-pound title at Cowboys Stadium.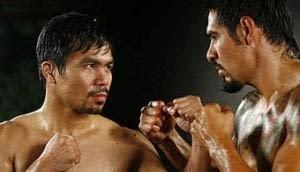 "It has been really hard but this is a great opportunity for me," said Margarito at a boxing gym on Sunset Boulevard Thursday. "It has always been difficult for me. I have had great challenges but those things have turned me into the boxer I am."
The much bigger Margarito has an advantage in height (five inches), reach (seven inches) and almost every tale-of-the tape category except when it comes to counting victories. Pacquiao is 51-3-2 with 38 knockouts while Margarito has six losses and 38 wins.
This will mark Margarito's first fight in the US since he was banned from competing in most American states after he was caught using illegal gloves in a 2009 fight against Shane Mosley in Los Angeles.
Margarito still can't fight in states like California after officials discovered a plaster-like substance in his hand wraps but Texas decided to give him a permit.
Margarito's new trainer Robert Garcia said his fighter is doing everything he can to get ready for Pacquiao.
"We've got two weeks left, but we could be ready tonight," said Garcia. "He's right where I want him physically, and mentally, he says this is the best he's ever felt. Every single day when we're driving home in the morning after running, he tells me there's no doubt this fight is ours. I've never seen him like that before."
Paquiao's trainer Freddie Roach said Wednesday that Margarito got off lightly with a one-year suspension and suspects the Mexican boxer may have used "loaded" hand wraps against other opponents besides Mosley.
Margarito says his then trainer, Javier Capetillo, put the illegal substance in his gloves without his knowledge, but Roach and Pacquiao both have their doubts. Roach cited the 2008 Miguel Cotto and Kermit Cintron fights as also being suspicious.
"It is evident he was loaded in some fights," Roach said. "After a fight what is the first thing a fighter wants to do? It is get the (expletive) gloves off as quickly as possible," Roach said.
"Against Cintron he kept the gloves on the whole time didn't take his gloves off until he got to the dressing room. So it makes me wonder."
Margarito beat the favoured Cotto in 11 rounds in July 2008 just three months after knocking out Cintron in round six.
The Margarito-Pacquiao fight will mark just the second world championship event at the state-of-the art Cowboys Stadium. Over 50,000 people watched Pacquiao successfully defend his World Boxing Organization welterweight title against Joshua Clottey on March 13 in Dallas.
Promoters hope to sell over 50,000 tickets for the November 13 fight as well.