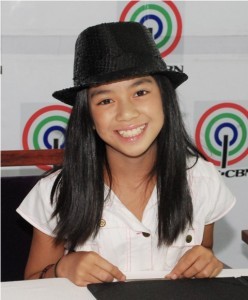 MANILA, July (Mabuhay) – Star Records' newest recording artist Maria Aragon bared her dream to perform with Filipino artists like hunk actor Piolo Pascual, Pop Star Princess Sarah Geronimo and Concert King Martin Nievera.
"I really wanna perform with Piolo, Sarah. And I really don't know why but I really want to meet Martin Nievera because he seems to be a really, really cool guy," the 10-year-old Filipino-Canadian singer said.
Aragon, who was discovered on YouTube by Lady Gaga, arrived in Manila on Wednesday to record an album for Star Records.
The young singer quickly rose to fame after no less than her idol, Lady Gaga, posted in her official Twitter account a link to a YouTube video of Aragon's cover version of her song "Born This Way".
Aragon's YouTube video has been viewed at least 38 million times.
On March 3, 2011, Aragon performed with Lady Gaga at the latter's concert in Toronto.
She also guested on The Ellen DeGeneres Show.
And just earlier this month, she performed before Prince William and Kate Middleton when the royal couple visited Canada. (MNS) â–