By Ivan Stewart Saldajeno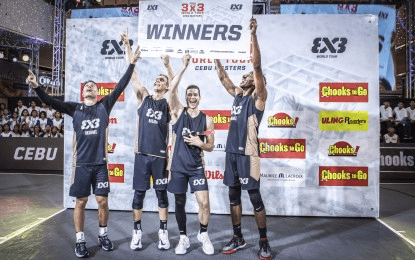 CEBU CITY – Jimmer Fredette came up huge in crunch time as Miami held off Vienna, 22-19, in the final of the Cebu Masters on Sunday night at the SM Seaside City Activity Center here.
The former National Basketball Association (NBA) player took off just in time, hitting back-to-back deuces, including the winning basket with 47.9 seconds to go to lead Miami to the win.
Fredette, named the Most Valuable Player of the tournament, led Miami, which became the first team from the United States to win it all in the Level 10 event since 2019, with nine points.
Canyon Barry, who added eight points, praised FIBA and Chooks-to-Go, the main sponsor of the event, for the successful staging of the two-day showdown.
"This is an unbelievable tournament. Chooks-to-Go and FIBA did a great job putting it on. The fans here are the best in the world — the atmosphere, the energy, the support in every game all day long is incredible," said Barry, the son of NBA Hall of Famer Rick.
Kareem Maddox chipped in four, and Dylan Travis made one.
Miami entered the final after stunning world number one Ub Huishan NE, 21-13, in the semifinals.
Ub earlier put an end to host team Manila Chooks' campaign with a 21-14 quarterfinal win.
Matthias Linortner, who also went clutch only to fall short, led Vienna with nine points, Nico Kaltenbrunner added six, Quincy Diggs put up three and Enis Murati scored one.
Vienna carved its own path to the final with a Diggs buzzer-beater for a 19-18 semifinal win against Amsterdam HiPro.
In the co-main event, Polish pro dunker Rafak Lipinski beat Filipino opponents David Carlos and Dominic Gonzales to rule the dunk contest.
Earlier in the day, Ulaanbaatar's Steve Sir beat Manila's Mac Tallo right in the final basket to win the two-point shootout. (PNA)