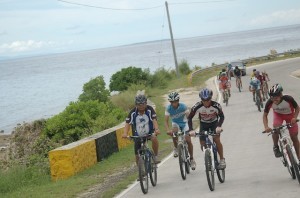 ZAMBOANGA CITY, Aug. 2011 (PNA) – Bikers from Mindanao and the Visayas are holding a "Run for Peace and Solidarity for Mindanao" to generate public awareness and support for the ongoing peace talks between the government and Moro Islamic Liberation Front (MILF).
The Peace Advocate Zamboanga (PAZ) in a statement Wednesday said that the activity, which will start Sunday, August 21, until next week also aims to strengthen solidarity among the peace stakeholders.
PAZ is a Catholic organization whose objective is the promotion of peace by strengthening good relations among Muslims and Christians, and all other peoples.
PAZ said the bike marathon will be preceded by a Culture of Peace briefing and Citizens' Peace Forum to be held on Saturday, August 20, at the Western Mindanao State University (WMSU) here.
The theme of the forum is "Duyog Mindanao: Generating Citizens' Participation in the Peace Process."
The biking campaign is part of a series of activities dubbed as "Duyog Mindanao 2011," jointly spearheaded by Mindanao Peace Weavers, Davao-based International Initiatives for Dialogue (IID), the Zamboanga City-based PAZ and Inter-Religious Solidarity Movement for Peace (IRSMP).
The bikers will stop at significant points and institutions located along the highway routes to hold dialogues with local citizens on topics related to the peace process.
The event will coincide with the August 22 resumption of peace negotiations between the Philippine government and MILF in Kuala Lumpur, Malaysia.
The bike run will kick off at 6 a.m., Sunday, August 11, from the WMSU open stage, make a symbolic pass at the PAZ's peace monument in Barangay Sta. Maria and move on to Curuan, 50 kilometers east of this city, where the participants will spend the night.
On Monday, they will drive up to Ipil, the capital town of the nearby Zamboanga Sibugay province and from there to the rest of the itinerary will be followed.
PAZ said that those who are interested to joint the Run for Peace and Solidarity in Mindanao may contact its office at telephone numbers (062) 992-3086 or 0916-870-82-90 and look for Aldrin Abdurahim, the Executive Coordinator of IRSMP. â–