By Raymond Carl Dela Cruz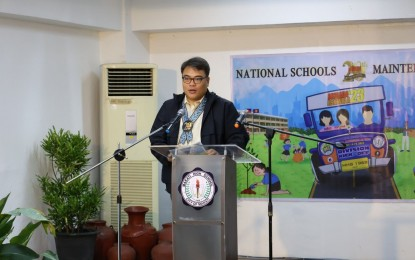 MANILA – Students in select schools in Makati will soon receive lectures on anti-smoking, anti-littering, basic first aid and disaster management following the signing of a memorandum of understanding (MOU) on Monday between the Metropolitan Manila Development Authority (MMDA) and the Department of Education (DepEd) – Division of Makati City.
The MOU was signed during the "Brigada Eskwela 2023 Division Kick-Off' at Makati High School.
In a statement, MMDA acting chair Romando Artes said the initiative aims to implement a smoke-free and healthy environment in public schools and will be a continuing program until its expected end in June 2025.
"We will teach the students the importance of health and the dangers of smoking, vaping, as well as second-hand smoke, to our well-being through social media and/or video conferencing platforms," Artes said.
The MMDA, through its Health, Public Safety and Environmental Protection Office (HPSEPO), will facilitate the anti-smoking lectures and orientation to inform students on the effects of littering that may cause clogging of waterways and, eventually, flooding.
"Likewise, the students will undergo a course on basic first aid and disaster management for incidents of fire, flooding, and earthquake," he said.
On the other hand, DepEd Makati will serve as a partner in the campaign and is responsible for securing the health and wellness of students.
"The MMDA believes that one of the keys to a successful implementation and sustainability of an integrated health program is the active involvement and participation of partner organizations and school communities in identifying problems brought about by smoking and vaping, seeking feasible solutions, and tapping into existing resources," he said.
To date, the schools included in the program are Makati High School, San Isidro National High School, San Antonio National High School, Gen. Pio del Pilar National High School, Bangkal High School, Maximo Estrella Senior High School, Fort Bonifacio High School, Benigno Ninoy S. Aquino High School, Makati Science High School, Pitogo High School, Tibagan High School, and Nemesio I. Yabut Senior High School.
"The discussions, which will be done either online or face-to-face, will have a maximum of 50 students per session, per school. It will be a mix of junior and senior high school students," he said.
Artes was joined in the MOU signing by Makati Vice Mayor Monique Lagdameo, officials from DepEd Makati, and representatives from private partners China Bank Savings and Young Men's Christian Association. (PNA)