MANILA, November 10, 2010 (AFP) – A 5.2-magnitude earthquake struck off the Philippines' northern island of Luzon Wednesday, seismologists said, although there were no immediate reports of damage.
The quake hit at 18:30 local time (10:30 GMT) 52 kilometres (32 miles) west of Olongapo, Luzon, at a depth of 59 kilometres, the US Geological Survey said in a statement.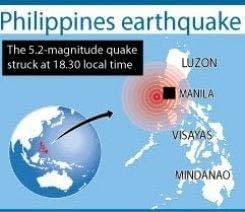 There was no immediate tsumani warning, according to the Pacific Tsunami Warning Centre website.
Luzon, the largest island in the Philippine archipelago, is currently experiencing a volcanic eruption from the 1,565-metre (5,135-foot) Mount Bulusan crater.
Scores of residents have been evacuated from villages near the base of the volcano after it showered nearby communities with ash on Tuesday.
The Philippines is part of the Pacific Ring of Fire, where frequent volcanic eruptions and earthquakes take place.