$10,000 gift helps spread education to children in Philippines
DALLAS (May 31, 2012) – Low-income children in the Philippines who are at risk of not receiving an education now have increased access to new pushcart classrooms, thanks to a $10,000 grant to the Dynamic Teen Company from United Way Worldwide.  The gift was made possible by funds donated and recommended by MoneyGram, a leading global money transfer company.  Through its Kariton Program, the Philippine-based non-profit Direct Teen Company offers pushcart classrooms to at-risk youth in the Philippines, many of whom are living on the streets.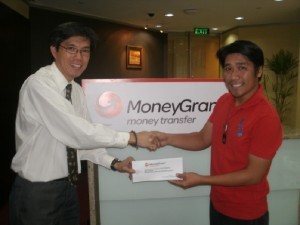 "Education is instrumental in restoring hope and dignity to youth and their families," said Alex Lim, MoneyGram's country manager in the Philippines. "MoneyGram is focused on providing youth more opportunities to attend school, read more books and ultimately build a better livelihood. The Kariton Program has proven it supports youth in Manila and helps them return to school."  Lim recently presented the $10,000 check to Efren Peñaflorida, Jr., chief executive and founder of Dynamic Teen Company, during a special ceremony at MoneyGram's Manila office.
"This grant will help our outreach to children for our expanded programs around Manila," said Peñaflorida. "We want to provide an opportunity for all of Manila's children who may have shied away from school because of poverty, lack of interest in studying, and negative elements in their surroundings to once again return to formal education."
Peñaflorida started the pushcart classroom in his home community of Cavite City and expanded the classrooms earlier this year in the cities of Manila, Pasig, Caloocan and Quezon City, targeting areas where street children are known to stay. Dynamic Teen Company plans to add 13 more pushcart classrooms around Manila later this year.
About MoneyGram
MoneyGram, a leading global money transfer company, enables consumers who are not fully served by traditional financial institutions to meet their financial needs.  MoneyGram offers money transfer services worldwide and bill payment services in the United States and Canada through a global network of more than 275,000 agent locations—including retailers, international post offices and financial institutions—in 194 countries and territories around the world.  To learn more about money transfer or bill payment at an agent location or online, please visit www.moneygram.com or connect with us on Facebook.
Global Media Contacts:
Patty Sullivan/Sean Tuffnell
214-303-9923