MANILA, January 12, 2011 (AFP) – Widespread flooding in the Philippines has claimed seven more lives, raising the death toll from two weeks of heavy rain to 40, officials said Wednesday.
The seven deaths occurred over the past four days as floods engulfed Samar, the country's third-largest island, the National Disaster Risk Reduction and Management Council said in its latest bulletin.
Seven other people remain missing after being swept away by floods or buried by landslides. Soldiers and government personnel are evacuating more people in Samar and nearby Leyte island, the bulletin said.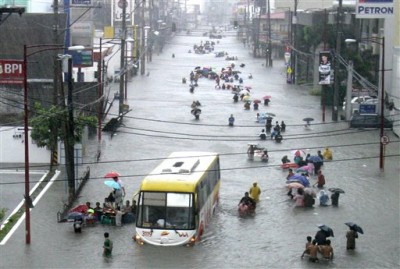 The heavy rains began shortly before New Year's Eve and have brought misery to 1.29 million people across 144 towns, including 338,000 who fled their homes or are receiving food or other aid from the government, it said.
More than 22,000 people remain in government-run temporary shelters while waiting for floodwaters to ebb, with nearly 1,300 houses damaged or destroyed, it added.
An initial government estimate put the damage to roads and bridges, homes, and farms at nearly 900 million pesos ($20.29 million).