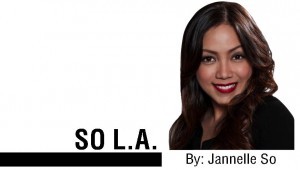 About four weeks before "Sugar" Shane Mosley (46-6-1 with 39 KO's) faces Manny Pacquiao (52-3-2 with 37 KO's) for the WBO welterweight title in Las Vegas, Nevada on May 7, the three-division world boxing champion welcomed the media to the garage of his home in Big Bear, California. In it is a customized gym where he has been training for each fight for the last decade now.
"It's very good and very important. It's easy for me to just walk down the stairs right into the gym," Shane said, explaining the advantages of living and training in the same space. "I can come to the gym anytime I have an itch to work on something – this move or that move."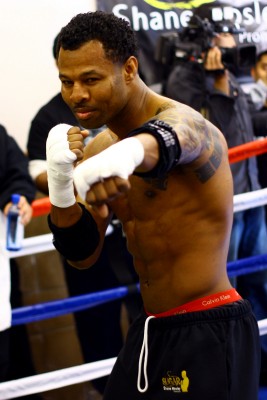 Weighing at about 157lbs. when he faced the press, Shane seemed to have no problem with making weight in time for fight weekend. In fact, he seemed to have no problem facing the reigning pound-for-pound king, despite earlier prediction by Hall of Famer and Pacquiao trainer Freddie Roach that the Filipino sensation is going to knock Shane out after the fourth round, between fifth and seventh.
"That's pretty interesting. That's going to be a hard task to do. I've never been knocked out before. And even when I spar with big guys, they can't really hurt me. If he (Pacquiao) does that, he'd be very special," Shane said.
Despite walking into this match up with a two-game losing streak (loss via unanimous decision to Floyd Mayweather, Jr. and a draw against Sergio Mora, both in 2010), Shane appeared confident and happy. Steve Kim, columnist at maxboxing.com, attributed this to Shane's recent divorce.
"He's a divorced man. Some people say he's a free man. It's no big secret that he was in a very bad marriage. Now he's out of that. A happy fighter is a better fighter. Because every sport is mental. You play physically; but you have to be mentally focused," Kim said.
Mental focus also seems to be the core of trainer Naazim (Naseem) Richardson for his ward.
"Right now we're just dealing with his mental condition, keeping him focused and rehearsing the game plan. We're also making sure everybody is involved; not just the fighter, but everybody in his corner," he said.
According to Shane, he's sticking to the plan: "Different things happen in your life where you can't do your best or you can't do what you think you can do when you're on the ring. But I'm going to this fight pretty focused, in pretty good health. I'm training very hard and I'm very confident that I'm ready to go."
And according to Shane's father Jack, who introduced him to boxing and started training him some 31 years ago, if Shane is healthy and has his energy, he will be "victorious."
"He has all the tools – the combinations, the jabs, the footwork – he has all of that. I trained him all of that. And when you train somebody, that style stays with him throughout his whole boxing career. Things that change are conditioning and being healthy," the elder Mosley said, adding that he's very proud of his son. "I'm happy that he's getting this great fight. He deserves it. He's toward the end of his career but he still wants to promote boxing with I think maybe one or two more fights. As his father, I think he's going to get all the things he can from this fight – the accolades, all the support from his family, friends and cousins."
Top Rank promoter Bob Arum is confident that he picked the right opponent for Manny, yet again.
"It matches two guys who come to fight. They don't do a lot of defensive stuff and really want to entertain fans," he said. "Shane is a great fighter if his opponent comes to him. So there'll be a lot of exchanges. Some people say Shane hits harder than Manny. We'll see. All I know is Shane is coming to this fight with his best. Whether it's good enough to beat Manny, we'll see that on May 7th."
But while experts are predicting and expecting to see Manny try to engage Shane in an unorthodox style of boxing on the ring, outside of it, it seems Shane is the one engaging Manny…via Twitter… with tweets like:
"Just cause u have the bieber hair style doesn't mean u can sing like him. NO WORRIES. I'll beat you and have you singing right… #Sugartime"
"SUGAR is the vital ingredient for the recipe of DISASTER. Manny's gonna have to taste a JAWBREAKER May 7th #Sugartime"
"It's all engagement. I was trying to pump the fight up, get everybody riled up which I did," said the future Hall of Famer. "But my true feelings that people see is outside the ring. I really have a lot of respect for Manny."
And also through Twitter, he has been showing a lot of respect for the Filipino people, even going as far as tweeting in Tagalog which he claims don't from a Google Translator, but instead uses an application on his phone for some Tagalog tweets:
"Filipino tao ibinigay sa akin ng lot's of love ngayon. salamat"
"I tumingin forward sa magandang malinis na laban. ako excited."
Pagpapadala ibig at paggalng sa mga tao ng Philippines."
So it goes that while Filipinos are praying for another victory for the Honorable Congressman from Saraggani and the People's Champ, they are also hoping that the sweet "Sugar" Shane they are learning to respect and admire for his class act won't get beat up badly the way the Pacman wiped out his previous opponents on his way to the top of the world.
"We know Shane Mosley and we know what he's made of. He's been consistent. And even on his bad day, he's given the public their money's worth. That's something you expect from a professional athlete at his level," added Richardson. "Shane is a great human being. It just happens he knows how to fight."
And as this future Hall of Famers' showdown started with him, Arum had these last words to say in our interview at the media day: "Never underestimate fighters who are approaching the end of their careers."