By Mary Judaline Partlow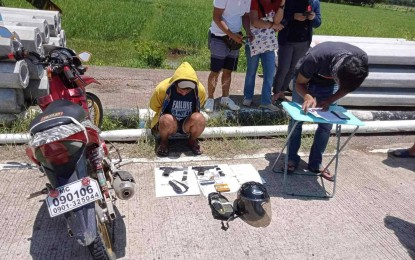 DUMAGUETE CITY – A suspected member of a private armed group (PAG) in Bayawan City, Negros Oriental, was arrested over the weekend after yielding illegal firearms, ammunition and suspected shabu.
A report from the Negros Oriental Police Provincial Office (NOPPO) on Monday said authorities nabbed Menjie Tapos Barte, 41, of Barangay Pagatban in Bayawan City, in Sitio Mansilong in on Sunday after receiving a tip about the presence of an armed person in the area.
Barte is being linked in the June 28 murder of an event host Jhonar Barrios in Barangay Malabugas, Bayawan City.

Barte yielded two cal.45 pistols, two magazines, 13 live rounds of ammunition, a motorcycle, and other items.
Also seized from the suspect were four plastic sachets containing suspected shabu weighing more or less 20 grams with an estimated street price of PHP136,000.
Lt. Stephen Polinar, deputy chief of NOPPO's Police Community Affairs and Development Unit (PCADU), said Barte is also linked to other previous killings in Negros Oriental and has alleged connections to PAG members who were either shot dead or arrested earlier.
Barte will be charged with violation of the Commission on Elections gun ban, Republic Act 10591 or the Comprehensive Firearms and Ammunition Act, and Republic Act 9165 or the Comprehensive Dangerous Drugs Act. (PNA)