To celebrate Filipino Heritage Month, PAE Live Entertainment headed by Ted Benito, in partnership with the Latino Theatre Company is currently showing the theatre presentation of "Flipzoids," at the Los Angeles Theatre Center (LATC) in downtown LA. The play runs through October 28, 2012.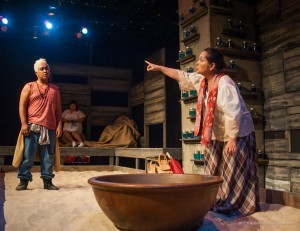 This theatre presentation is a "must-see" for all Pinoy immigrants who can relate to deep emotional feelings of identity, assimilation, sentiments and acceptance of oneself in a foreign land.
Becca Godinez, more well-known for her recent performance as a jazz singer at the Hollywood Bowl and the Ford's "Jazzmopolitan" variety shows, is now back as a thespian after 30 years of absence in theatre. In her riveting portrayal of "Aying," the aging "provinciana," she blended her role perfectly with her monologues on loneliness and memories of her youth through an ocean setting, which added a powerful significance on her desire to go back to her homeland.
Ellen Williams, on the other hand, portrays Aying's daughter, Evangeline or "Vangie," a nurse who plays the role of the new immigrant who tries to assimilate with her newfound culture by learning the English vocabulary and adapting to the American way of life. Her role is juxtaposed by her love for Aying, her mom and the new standards she imposes on herself.
Finally, Maxwell Corpuz who portrays the "free-spirited" Redford is mesmerized by Aying's symbolic and simplistic Pinoy monologues, which ultimately captures his belief that he is by nature a Filipino though American-born.
"Flipzoids" is a play not to be missed by those of you who long for your homeland. For further information on showtimes, please call LATC at: 213/489-0994 extension 107.
For more Fil-Am News click here.