By Andrew Lawrence
MELBOURNE, Australia – Fireworks celebrations come in different sizes and color spectrums, but almost all of them share the same cadence. They start out small, get big in the middle and die down, often without payoff or prediction.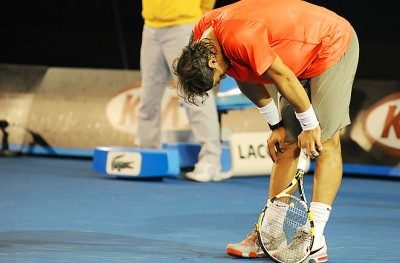 On Wednesday evening at Rod Laver Arena, everyone knew when the crescendo was coming. During the evening's marquee event, between top-ranked Rafael Nadal and countryman David Ferrer, the match ceded for 10 minutes for a citywide fireworks show feting Australia Day – the continental equivalent of our Fourth of July.
When Nadal rose from his chair following the display, down a set and a break to Ferrer, he was sweaty and stiffened from a hamstring injury suffered in the second game. The last rocket had just screeched just over the arena's open roof, high into the cool night sky.
There would be no fireworks for Nadal on this night. The Rafa Slam is over, a 6-4, 6-2, 6-3 win by the free-swinging Ferrer in a display that was clinical and joyless. "This was a difficult day for me," Nadal said. "I couldn't do more."
As the match wore on, the rallies got shorter. The final game, on Ferrer's racket, took just 12 strokes to decide. Still, Melbournites know the show could've been much worse. Last year Nadal quit on his stool two-and-a-half sets into his quarterfinal clash with Andy Murray. That bitter memory was still fresh in Nadal's mind late Wednesday night. "I hate the retirements," said Nadal. "I hate that moment. I didn't want to repeat that."
The world number one parried questions about his health and successfully held his ground at first. "I can't tell you which problem I have," he said. "Because I don't know." But, just as in the match, his defense softened, his pain was plain. "Seems like I always have problems when I lose," Nadal said, "and I don't want this image."
Yet, it's always been something with Nadal. Last year it was his knees. This year it's a virus, caught in a warm-up event in Qatar earlier this month. Though he was pronounced fit before the Open, symptoms still lingered – among them fatigue and significant perspiration that, in one instance, resulted in drastic weight fluctuation. In his third-round match against Australian Bernard Tomic, Nadal said he lost two-and-a-half kilograms (or about five-and-a-half pounds). Against Ferrer, Nadal was again drenching his shirts in sweat. He spent most of his changeovers exchanging his soaked shirts for fresh ones, neatly placing his dirty laundry on a cooler near his chair.
Folding laundry was one thing, throwing in the towel quite another. If Nadal was staying in the match, Ferrer wasn't letting him off the hook. The 28-year-old Ferrer squeezed off winners from both wings and landed a staggering 83 percent of his returns in play. He was effective at net too, winning 19 times of 25 he breached the service line. "Always with Rafa I need to play very aggressive," Ferrer said. "Maybe I [got] lucky today."
Ferrer knows he'll need more of the same against Murray, his opponent in the semis. The top-ranked Brit was brilliant in his quarterfinal earlier in the day, dispatching Alexandr Dolgopolov 7-5, 6-3, 6-7, 6-3. Still, Nadal likes Ferrer's chances. "He's playing fantastic," he said. "If he [keeps] playing like this, he's gonna have a good chance."
The fireworks, he added, didn't throw off his rhythm. Nadal changed his shirt during the delay and briefly left the stadium. He came back a couple of minutes later. But this loss – his worst in a Slam since his straight-sets loss to Juan Martin Del Potro in the '09 U.S. Open semis – reverberated through the men's draw and will hang over Nadal for months. For now, his chance to make history has fizzled and died. The Rafa Slam is no more.