By Priam Nepomuceno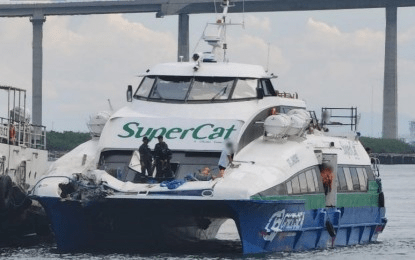 MANILA – Units from the Philippine Navy's Naval Forces Central (NFC) came to the rescue of passengers of a fast craft that collided with a cargo vessel after suffering a "steering casualty" while transiting along Mactan Channel on Sunday afternoon.
SuperCat commercial vessel St. M/V Jhudiel collided with LCT Poseidon 23 at around 2:53 p.m. near the First Cebu-Mactan (Osmeña Jr.) Bridge.
NFC acting assistant public affairs office chief Lt. Jr. Grade Abigail Jean Laturnas, in a statement Monday, said they were involved after Naval Task Force 50 deployed BRP Enrique Jurado and the 5th Patrol Boat Division to provide rescue and assistance.
"The immediate response of PC-371 together with the 5th PB (Patrol Boat) Division to the said distressed vessels resulted in the safe transfer of 28 passengers to Captain Veloso Pier, NBRR (Naval Base Rafael Ramos) Lapu-Lapu City, Cebu wherein they received first aid treatment from personnel of BRP Batak (LC-299)," she said.
Medical personnel from Naval Base Rafael Ramos then took the rescued passengers to their medical dispensary for further treatment and check-up.
Laturnas said six of the passengers were later transferred to Mactan Doctors Hospital while the other 22 passengers were escorted to Pier 1 in Cebu City.
"Likewise, PC-371 together with a civilian tugboat T/B Fortis escorted Supercat St. Jhudiel carrying the remaining 169 passengers and 13 crew members enroute to Pier 1, Cebu City," Laturnas said.
Investigation conducted by the Philippine Coast Guard (PCG) said M/V St. Jhudiel departed Ormoc City, Leyte with 197 passengers, bound for Cebu City.
While underway, the ship experienced steering casualty and engine failure, causing it to collide with LCT Poseidon 23, which was on its way to Ormoc City from Mandaue City.
LCT Poseidon 23 was carrying 17 rolling cargoes and 20 drivers/cargo helpers at the time of the mishap. It immediately returned to its port of origin, Ouano Wharf in Mandaue City.
"As per M/V St. Jhudiel's master, 25 passengers suffered minor injuries," the PCG added.
The PCG immediately deployed a floating asset, a land vehicle, and an ambulance to provide necessary assistance.
In an interview, Commander Mark Larsen Mariano, chief of Coast Guard Station Central Cebu, said the initial report said 35 passengers of the fast craft were brought to a hospital in Mandaue City while six received medical attention at the Naval Forces Central (Navforcen) in Lapu-Lapu City.
"We were able to deploy our floating assets to rescue the passengers. Our ambulance provided necessary medical attention to the injured passengers," Mariano told the Philippine News Agency.
As of 3 p.m. Monday, the masters of the two vessels have not filed their marine protest.
However, Mariano said that based on their initial investigation, MV St. Jhudiel experienced a steering wheel anomaly while traveling from Ormoc City.
MV St. Jhudiel suffered damage at its front starboard side but no oil spill occurred since the rupture was above water.
"We deployed our Coast Guard Marine Environmental Protection Force-Central Visayas to conduct an oil spill evaluation," he added.
SuperCat said it "apologizes for the harm and inconvenience caused by the recent accident."
The company said they are now "conducting a thorough investigation on the incident with proper government agencies, and that additional safety measures and appropriate actions shall be undertaken to avoid recurrence of this unfortunate incident."
It pledged "to ensure that all those who sustained injuries are properly cared for."
"Additional safety measures and appropriate actions shall be undertaken to avoid (the) recurrence of this unfortunate incident," the company added. (with report from John Rey Saavedra/PNA)