Surprise! The red-hot Miami Heat are still streaking, putting some distance between themselves and the rest of the top-heavy Eastern Conference while challenging the San Antonio Spurs for the best record in the NBA. In fact, Miami is the only constant atop our rankings, which otherwise feature a completely shuffled top 10.
Can the Heat – who have posted a 22-1 record since Nov. 27 – keep it up? Or will injuries slow LeBron James, Dwyane Wade and company like they have the Boston Celtics, Dallas Mavericks and Spurs? Only time will tell. But for now, there's no team better.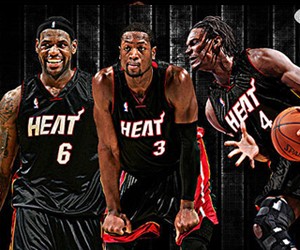 1. Heat (30-9) | Prev.: 1
 With the Heat winning 21 of their last 22 games – including 13 straight on the road – there aren't many obvious flaws to discuss at the moment. Thankfully, Tom Haberstroh over at the Heat Index found one: Joel Anthony's stat line from Sunday's win over the Blazers. Anthony played 29 minutes, but the only quantifiable results he was able to accomplish was picking up four fouls and turning the ball over once. That's right – zeros everywhere else.
2. Magic (25-12) | Prev.: 5
 Orlando's won nine straight, but far be it for Stan Van Gundy to get complacent. Apparently he didn't like the team's reaching on defense in practice on Monday, so he made the team run suicides as penance.
3. Spurs (31-6) | Prev.: 2
 No one is questioning the fact that the Spurs are one of the league's elite, but they did come back to earth a bit this week with consecutive road losses at New York and Boston. Certainly nothing to be ashamed of, but on the flip side, squeaking out wins by just three points apiece against bottom-feeders like Indiana and Minnesota isn't that great either.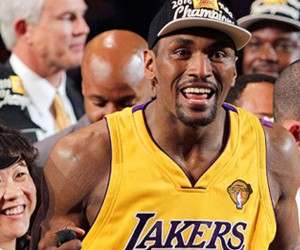 4. Lakers (27-11) | Prev.: 6
 Andrew Bynum was ejected from the Lakers win over the Knicks on Sunday, under circumstances that were dubious at best. Sure, Bynum was a little overly emotional in arguing a foul he picked up while guarding Amar'e Stoudemire. But repeatedly asking the official "are you serious?!" shouldn't get you kicked out, and the league seemed to agree, rescinding Bynum's second technical a day later. Now, what Ron Artest was doing in that game? Those are things the officials probably should have paid closer attention to.
5. Celtics (28-9) | Prev.: 4
 The Celtics are slowly getting healthy but aren't playing close to their potential right now. After dropping one at home to a Rockets team that had previously lost six of its last seven, Doc Rivers, as you might have guessed, wasn't pleased. "I've got to somehow figure out a way of getting them to see the urgency of the whole season, and not the single game," Rivers told reporters. "Playing Game Seven on the road … and not just in the finals, if you make it there, but in the playoffs, in the East, is going to be difficult."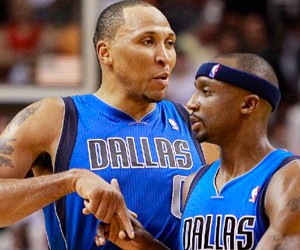 6. Mavericks (26-10) | Prev.: 3
 Dallas is predictably just 2-5 in the seven games that Dirk Nowitzki has missed while recovering from a sprained knee, but he'll be back at some point. The more permanent loss of Caron Butler, who had season-ending knee surgery last week, may prove to be a bigger issue if the team is unable to acquire some additional depth before attempting a run in the postseason.
7. Bulls (24-12) | Prev.: 8
 The Bulls have won seven of their last nine, and despite playing the lowly Pistons on Monday – as you'll see in the clip below – Derrick Rose got up for this one.
8. Thunder (25-13) | Prev.: 9
 Kevin Durant scored 28 points in his team's five-point loss to Memphis last week. When the Thunder played them again this week, Durant added 12 points to his scoring total by dropping 40, and his team won by nine. Good thing someone else stepped up with those two extra points.
9. Hawks (25-14) | Prev.: 10 
In the Hawks' win over the Jazz, Jamal Crawford had yet another four-point play – the 31st of his career, as pointed out by Trey Kerby over at TBJ. Trey's right: that does seem like a lot.
10. Jazz (25-13) | Prev.: 7
 Utah is playing just .500 ball over its last eight games, and the lack of consistency has Jerry Sloan considering making changes to the starting lineup. "I've never had a team, probably, that's been this unsettled," Sloan said. Coming from someone who's been coaching the same team since 1988, that's kind of crazy.
11. Knicks (21-15) | Prev.: 12 
Amar'e Stoudemire was more than triumphant in his return to Phoenix on Friday. He played well, had some highlight-reel dunks, and his team lead by as many as 34 points before cruising to victory.
12. Blazers (20-18) | Prev.: 13
 Despite all the injury troubles, Portland has won four of its last six, and is competing on a consistent basis. Their proudest moment may have come in defeat, when they pushed the recently dominant Heat to overtime before eventually being overpowered by a combined 78 points from LeBron James and Dwyane Wade.
13. Hornets (22-16) | Prev.: 16
 The Hornets are just 9-9 in their last 18 games, but when they do win, it's a credit to their defense. In six of the team's last seven wins, they've managed to hold their opponents to just 87 points or fewer.
14. Nuggets (20-16) | Prev.: 11
 Denver is going to wait until the last possible moment to move Carmelo Anthony, and try to squeeze everything they can out of any deal that would send their franchise player out of town. This includes a combination of young talent, draft picks, and salary cap relief, so while we heard rumblings that things were getting close the past few days, don't be surprised if the team holds out until the trade deadline to wait and see just how much it can get in return. (Either that, or he could be dealt tomorrow.)
15. Grizzlies (17-21) | Prev.: 15
 For the first time in his career, Zach Randolph earned Western Conference Player of the Week honors for averaging 28 points and 14.3 rebounds in leading the Grizzlies to a 2-1 record.
16. Rockets (17-21) | Prev.: 14
 Aaron Brooks returned to the lineup on Monday and scored 24 points to lead the Rockets – who were without leading scorer Kevin Martin – to a road win over the Celtics, snapping the team's five-game losing streak in the process.
17. Sixers (15-22) | Prev.: 17
 Andre Iguodala has missed the last seven games with an Achilles' injury, but the Sixers have managed to stay afloat, winning three times in his absence. That could bode well for the team's long-term prospects, as Philly currently is sitting in the eighth and final playoff spot in the East, while Iguodala returned to practice this week and should make his way back very soon.
18. Suns (15-20) | Prev.: 18
 Phoenix is just 2-7 in its last nine games, and struggled for most of the night on Sunday before pulling away in the fourth to beat a Cavaliers team that was riddled with injuries. Head coach Alvin Gentry said afterward that there is no such thing as a bad win, and he also promised some consistency in the team's starting lineup and rotations to see if they can string together some wins. Stay tuned.
19. Bobcats (14-21) | Prev.: 22
 The Bobcats have a winning record since firing head coach Larry Brown, and that's no surprise to Stephen Jackson. "It's kind of like losing a team. Nobody wanted to play no more," Jackson said. "Everybody wanted to play a different style than we were playing. We didn't agree with what was going on. Obviously, it wasn't working, so we needed a change. We had to figure something out."
20. Bucks (14-21) | Prev.: 19
 At first glance, Brandon Jennings seems to be an odd choice a one of the participants in this year's dunk contest. Forget the fact that he has just two in-game dunks on the season, compared to a ridiculous 80+ from odds-on favorite, Blake Griffin. The fact that he's been out with a broken foot for the past month is what's weird, but if he's healthy, I wouldn't rule him out: remember, little guys have a distinct advantage in this event – just ask Nate Robinson.
21. Clippers (12-24) | Prev.: 21 
Speaking of the dunk contest … like everyone else, I can't help but be impressed by what Blake Griffin has been doing seemingly on a nightly basis. But remember, in-game dunks and dunk contest dunks are two completely different things. Just ask the Lakers Shannon Brown, who begged to get into the contest last year but didn't do anything exciting once he got there.
22. Warriors (15-22) | Prev.: 25
 Dorell Wright has been a real bright spot for the Warriors this season, averaging a career high 16.5 points and almost six rebounds per game. Crazy to think he was on the Miami Heat for the past six seasons, although it's not like they're exactly struggling without him.
23. Pistons (12-24) | Prev.: 23 
There's a ton of moving parts to the rumored three-team trade that's in the works between the Nuggets, Nets, and Pistons. But one of the things apparently involved in getting Carmelo Anthony safely to New Jersey is the matter of Detroit taking on the contract of Johan Petro in exchange for a second-round draft pick. This stuff gives me a headache, but Piston Powered does a good job breaking this part of the deal down in excruciating detail if you're into that sort of thing.
24. Pacers (14-20) | Prev.: 20
 Indiana's just 3-10 in its last 13 games, and there are rumblings that Danny Granger might be available. And yet, this team is still somehow the seven-seed in the East.
25. Raptors (13-24) | Prev.: 24
 When the Raptors lose, they lose big: Toronto's last three losses have been by an average of over 21 points per game.
26. Kings (8-26) | Prev.: 30 
Sacramento's won three of its last six, which is big news when you only have eight total wins on the season.
27. Wizards (9-26) | Prev.: 26
 JaVale McGee might just have a shot at this whole dunk contest thing.
28. Timberwolves (9-29) | Prev.: 28 
If Minnesota could play the Spurs every night, they'd be a lot better off. Wait, what? Seems weird, but it's true: the T'Wolves are 0-3 against San Antonio this season, but have competed in all three losses, losing by just three, six, and four (in overtime!) in the three meetings.
29. Nets (10-27) | Prev.: 27
 Trading for Carmelo Anthony (and possibly Rip Hamilton, Chauncey Billups, or others) won't make New Jersey contenders this year. But having a superstar like 'Melo to build a team around, playing in a new arena in Brooklyn, and being funded by a billionaire owner is certainly a much brighter future than New Jersey is looking at now.
30. Cavaliers (8-29) | Prev.: 29
 With so many injuries, the Cavs are playing guys that even other NBA players have no idea who they are. The Suns' Jared Dudley had the line of the night after the Suns beat Cleveland on Sunday, saying of Cavs' reserve Samardo Samuels, "They brought the Cookie Monster in, that big dude. I don't even know his name, I mean he was huge."