MANILA, Nov. 1 (PNA) – A total of 11,769 assorted counterfeit Louis Vuitton (LV) products worth $3.5 million (about P152 million) were seized in successive raids by National Bureau of Investigation (NBI) operatives in several establishments in Manila, the agency said on Monday.
The raids were carried out in response to the complaint lodged by Anthony Francis L. Manankil of Manled Legal Consultancy Services, representing their client, Louis Vuitton Malletier, S.A., regarding the sale of fake products carrying their brand name.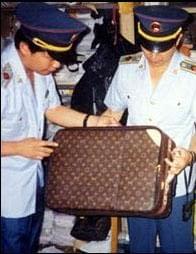 Raided were more than 20 stalls at the 168 Shopping Mall, Sta. Elena Street, Binondo, and warehouses located at 1414 Antonio Rivera St., Tondo, and CTC Building, Sta. Elena St., Binondo.
Prior to the operations, the NBI Intellectual Property Rights Division (IPID) conducted surveillance and test buys to confirm the reports.
In a report to NBI Director Magtanggol Gatdula, the bureau's Intellectual Property Rights Division (IPRD) said that the operatives were armed with search warrants issued by Judge Antonio Eugenio Jr. of the Manila Regional Trial Court (RTC) Branch 24 when they raided the establishments.
The raids resulted in the seizure of 11,769 pieces of assorted Louis Vuitton products such as bags, hand bags, pouches, leather cases, shoulder bags and other accessories.
Owners and operators of the raided establishments are facing charges for violation of Republic Act No. 8293, the Intellectual Property Code of the Philippines. â–