By Leonel Abasola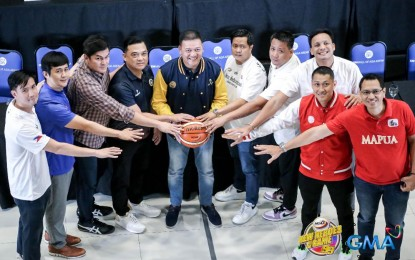 MANILA – A pair of explosive games pitting four-peat-feat-seeking Letran with host Jose Rizal University (JRU) and last year's runner-up College with St. Benilde with Final Four entrant Lyceum of the Philippines U open up Season 99 NCAA basketball hostilities Sunday at the Mall of Asia (MOA) Arena in Pasay.
The season, using the theme "New Heroes of the Game," will be officially ushered in with a grand opening rite unfurling at 2 p.m. before the Knights and the Bombers clash at 3 p.m. and the Pirates and the Blazers face off at 5:30 p.m.
"We will continue championing new heroes to carry the legacy of the NCAA (National Collegiate Athletic Association)," NCAA and JRU president Dr. Vincent Fabella said during season launch at the MOA Arena lobby on Thursday.
Also seeing action are San Beda, University of Perpetual Help, Arellano U, Mapua, San Sebastian and Emilio Aguinaldo College.
Apart from Sundays, the league, which will be televised simulcast on GMA and GTV live and streamed through the TV giant's YouTube channel, will have playing days every Tuesday and Wednesday.
"GMA Network is a proud partner of the NCAA," GMA Network chair and chief executive officer lawyer Felipe Gozon said.
Management Committee chair Paul Supan of JRU, for his part, said the league theme also pays tribute to all the NCAA family who will all contribute in making the season a success.
"Cheering fans, hardworking players, competent officials and dedicated coaches make the sport beautiful," Supan said. "They are the true heroes of the game."
The Knights, winners of the last three seasons, will have a new coach in Rensy Bajar, who has taken over from Bonnie Tan, and Kurt Reyson as their new team captain as they seek to extend their dynastic reign.
"I know it will be tough, but we will try to give our best and compete every game," said Bajar, himself a product of the league having played for San Beda during his college days.
Tonichi Pujante will have another tour of duty as league commissioner and vowed fairness in officiating.
"Just what I've said last year, we will have parity, transparency and integrity," he said. (PR)