By Ma. Teresa Montemayor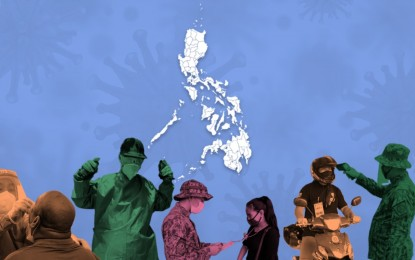 MANILA – The positivity rate or the number of people who tested positive for the coronavirus disease 2019 (Covid-19) in the National Capital Region (NCR) increased to 7.2 percent as of April 15.
Over Twitter, OCTA Research Group fellow Dr. Guido David said Monday the percentage is a "slight" increase from last week's (April 8) 6.5 percent positivity rate.
"High positivity rates of more than 20 percent were observed in Camarines Sur, Misamis Oriental and Rizal. Increasing positivity rates in many provinces," David said.
Camarines Sur's positivity rate is 21.1 percent; Misamis Oriental, 22.7 percent; and Rizal, 20.2 percent.
The provinces with increasing positivity rates include Benguet, from 6.3 percent to 8.9 percent; Bulacan from 3 percent to 3.9 percent; Cavite from 8.7 percent to 9.4 percent; Cebu from 7.7 percent to 9.7 percent; Laguna, from 4.9 percent to 7.9 percent; Pampanga from 3.6 percent to 5.3 percent; Pangasinan from 2.7 percent to 3 percent; and Zamboanga del Sur, from 4.3 percent to 7 percent.
Last week, Department of Health (DOH) officer in charge Maria Rosario Vergeire said the increase in positivity rate in many areas should not be a cause of panic because the healthcare utilization rates remain low which means hospitals and healthcare facilities have the capacity to cases when needed.
The public is urged to increase their immunity level by receiving their booster shot. The DOH is finalizing the guidelines for the administration of a second booster jab against the coronavirus for the general population. (PNA)