By Jean Malanum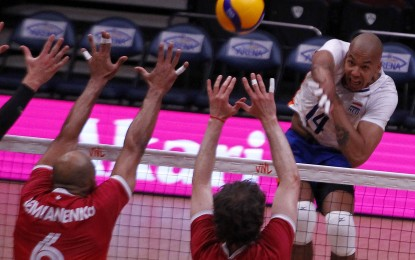 MANILA – The Netherlands relied on the heroics of skipper Nimir Abdel-Aziz to pull off 25-22, 25-22, 17-25, 25-18 victory over Canada in the Men's Volleyball Nations League (VNL) Week 3 at the Mall of Asia Arena in Pasay City on Wednesday.
The 6-foot-7 Abdel-Aziz finished with 22 attacks and two aces as the Dutch wrapped up the match in one hour and 37 minutes to keep the No. 8 spot with a 5-4 win-loss slate.
Defending champion France is behind at No. 9 with a 4-5 record.
Only the top eight teams from the 16-team VNL—organized by the International Volleyball Federation (FIVB) and Volleyball World with Ganten, Gerflor, Mikasa, Mizuno, Senoh and Stake.com as global sponsors will advance to the final round which will be held from July 19 to 24 in Poland.
"It's really important. We know it's really close in the battle for the 7th and 8th place so we needed this win to keep our hopes of qualifying to the finals," said Abdel-Aziz, who plays for the Turkish club Halkbank in the pro level.
Jorna Gjis had 12 points and Maarten Van Garderen added 11 points.
The Canadians fought back behind Ryan Joseph Sclater to claim the third set but the Dutch regained their form to win the match.
Sclater scored 20 points for the world No. 15 Canada, which remained at 14th place with a 7-9 win-loss card.
The Netherlands will face powerhouse Brazil (6-3), Canada will battle Italy (6-3) and China (2-7) will meet Slovenia (6-2) on Thursday in the final preliminary leg of the tournament sponsored by PLDT, Rebisco, Akari and the Philippine Sports Commission with support from Fitbar, Instax Fujifilm, Fitness First, Pasay City, Taguig City, Diamond Hotel, Maynilad, Peugeot, SM MOA Arena, The Look and The Moment Group with Cignal, Inquirer Group, RMN, DOOH, One Sports, One Sports+ and Mega Mobile as media partners.
The Italians stunned Brazil, 23-25, 25-20, 25-15, 25-21 in the opener last Tuesday. (PNA)