Household income, consumer spending, and poverty levels vary widely among AAPI groups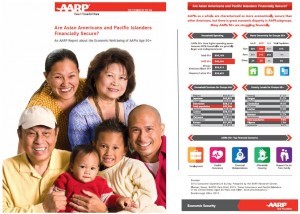 WASHINGTON, D.C.  – A new research report from AARP reveals economic disparity among Asian Americans and Pacific Islanders (AAPIs) age 50+. When viewed as a whole, AAPIs appear more financially secure than the general population, but the aggregate totals and median averages mask a large wealth and income gap among AAPIs. While a few AAPI groups have higher levels of household income and consumer spending, many more Asian ethnic groups are at or below poverty levels compared to the general population of the same age.
"We are committed to bringing attention to the needs of AAPI 50+ so that gaps in knowledge about and services for these communities are met," said Daphne Kwok, AARP Vice President of Multicultural Markets and Engagement for the Asian American and Pacific Islander Audience. "AAPIs are consistently understudied and underserved. Our research demonstrates that the priority needs of AAPIs differ by ethnic group, age, language, income, the length of time they've lived in the U.S., and other factors."
AARP's report about the economic security of older AAPIs reveals that:
AAPIs age 65+ are more economically vulnerable compared to the total U.S. population of the same age because they are less likely to have pensions, social security, and other financial products like health insurance and retirement savings:
14% of AAPIs age 65+ are on food stamps vs. 9% of the total U.S. 65+ population
13% of AAPIs age 65+ live in poverty vs. 9% of the total U.S. 65+ population
68% of AAPIs age 65+ receive social security income vs. 86% of the total U.S. 65+ population
22% of AAPIs age 65+ have retirement income from pensions and various retirement plans vs. 37% of the total U.S. 65+ population
AAPIs 50+ households spend more compared with other U.S. 50+ households ($60.4K vs $50.1K), but AAPIs tend to live in extended and multigenerational households. Therefore the consumer spending reflects consumption by more household members.
Senior AAPI home ownership overall is at parity with the total U.S. 65+ population, but AAPIs are more likely to be still making mortgage payments and concerned about housing costs:
29% of AAPIs 65+ own their homes free and clear vs. 48% of the total U.S. 65+ population
42% of AAPIs 65+ own their homes with a mortgage vs. 31% of the total U.S. 65+ population
24% of AAPIs 65+ rent their homes vs. 16% of the total U.S. 65+ population
AAPIs who speak English are in better financial shape than those who are linguistically isolated which limits their financial opportunities.
"Are Asian Americans and Pacific Islanders Financially Secure?: An AARP Report about the Economic Well-being of AAPIs age 50+" is the second of a three-part series of reports by AARP about key advocacy areas that impact AAPIs age 50 and older. The report is available for free download at www.AARP.org/AAPI. The next report about the health and healthcare of AAPIs will be released in January.
For more information about how AARP helps Asian American & Pacific Islander families get more out of life, visit www.facebook.com/AARPAAPICommunity andwww.twitter.com/AARPAAPI.
About AARP
AARP is a nonprofit, nonpartisan organization, with a membership of nearly 38 million, that helps people turn their goals and dreams into real possibilities, strengthens communities and fights for the issues that matter most to families such as healthcare, employment and income security, retirement planning, affordable utilities and protection from financial abuse. We advocate for individuals in the marketplace by selecting products and services of high quality and value to carry the AARP name as well as help our members obtain discounts on a wide range of products, travel, and services.  A trusted source for lifestyle tips, news and educational information, AARP produces AARP The Magazine, the world's largest circulation magazine; AARP Bulletin; www.aarp.org; AARP TV & Radio; AARP Books; and AARP en Español, a Spanish-language website addressing the interests and needs of Hispanics. AARP does not endorse candidates for public office or make contributions to political campaigns or candidates.  The AARP Foundation is an affiliated charity that provides security, protection, and empowerment to older persons in need with support from thousands of volunteers, donors, and sponsors. AARP has staffed offices in all 50 states, the District of Columbia, Puerto Rico, and the U.S. Virgin Islands. Learn more atwww.aarp.org.