By Priam Nepomuceno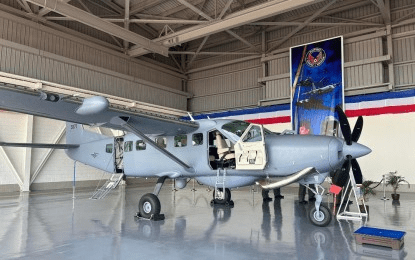 MANILA – The brand-new Cessna C-208B Grand Caravan intelligence, surveillance and reconnaissance (ISR) aircraft donated by the United States to the Philippine Air Force (PAF) would greatly enhance the military's capabilities to secure the country's vast maritime territories, Armed Forces of the Philippines (AFP) chief Gen. Romeo Brawner Jr. said on Tuesday.
"This aircraft will boost our capability of patrolling our maritime seas, (it will help us) boost our capability in making sure that we secure our territory and our sovereign rights," Brawner said on the sidelines of the acceptance, turnover and blessing ceremonies of the C-208B aircraft at Clark Air Base, Mabalacat, Pampanga.
Department of National Defense (DND) Secretary Gilberto Teodoro Jr. formally accepted the documents of the newly delivered C-208B from the chief of the joint US Military Assistance Group (JUSMAG)-Philippines, Col. Edward Evans of the US Air Force.
Teodoro then turned over the documents to Brawner, who in turn did the same to PAF commander Lt. Gen. Stephen Parreño.
Known for its rugged utility and flexibility which can operate up to 912 nautical miles and stay airborne for five hours and 30 minutes, the C-208B will be operated by the 300th Air Intelligence and Security Wing headed by Brig. Gen. Edgar Torres.
The 208B has a cruising speed of around 170 knots and is capable of transporting eight to nine persons, including the pilot.
The C-208 aircraft will be utilized in support of internal security operations, territorial defense and humanitarian assistance and disaster response, specifically in the conduct of rapid damage assessment and needs analysis during times of calamities and disasters.
The C-208B will also be significant in counterterrorism and law enforcement efforts.
This donation brings the number of C-20Bs in the PAF's inventory to three, with the two delivered by the US in 2017.
Expediting AFP modernization
In the same event, Teodoro said they are exerting all efforts to expedite the ongoing AFP modernization program, including its review to determine the programs that must be prioritized.
He said if the review takes much longer, the prices of equipment and platforms being sought by the AFP are more likely to go up.
"We have to build up our capabilities as soon as possible, so this cannot be delayed and we are working day and night to try to establish our own systems and whatever capabilities that we can get from our treaty partners and other allies, we're trying to converge this into interoperable systems, its critical, highly critical that we get it now," he added.
Teodoro also expressed hope that this review will be completed by the end of the year.
"It's by the end of the year because it really includes where are we going to establish our bases. If you will increase the capabilities, you will also increase your funding requirements. Even though this platform (C-208B aircraft), is donated, we have to appropriate more funds to maintain and operate it in an optimal manner annually," he said.
Teodoro said he has instructed the AFP chief and his staff to start for "rehorizoning" and "restrategization" regarding their modernization program.
Teodoro added he wants weapon systems and platforms to be acquired in the ongoing AFP modernization program to be capable of facing all kinds of security threats.
While acquiring these systems could be expensive, the DND chief said it will be at least "synergistic" and capable of handling these security challenges.
More transfers of defense assets
Teodoro also said there will be more exchanges like the transfer of the C-208B aircraft with other like-minded nations in the coming days.
The DND chief also stressed the importance of upholding the country's territorial integrity and sovereign rights.
"The Philippines is a potential vital contributory to regional stability and security, if we are a strong nation, with a strong armed forces; and that is what we are working very hard to achieve," Teodoro noted.
While the new C-208B aircraft may contribute to peace in the archipelago by supporting the missions of the AFP, Teodoro said "peace is only one of our national security goals."
"Another national security goal, which is of paramount importance now, is the ability to secure the territorial integrity of our country, to secure our sovereign rights and our jurisdiction," he added, noting that the country is upholding a rules-based international order and international law. (PNA)