By  Zen S. Laluna
LAS VEGAS – Four newly-elected judges held their first investiture ever and officially joined their judicial colleagues at Las Vegas Justice Court in simple investiture ceremony held at the Cashman Field Theater on February 4, 2011 at 2:00 p.m. They are Honorable Justices Janiece Marshall (Dept. 3), Wiliam Kephart (Dept. 6), Suzan Baucum (Dept. 13) and Conrad Hafen (Dept. 14).
Balita-Las Vegas Edition was invited to cover the event.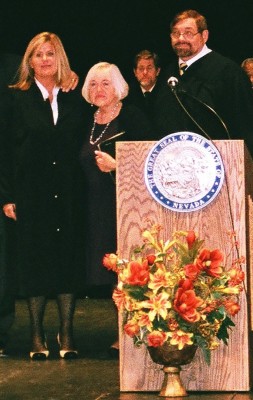 The judicial procession was headed by Hon. Michael L. Douglas, Chief Justice of Nevada Supreme Court, who presided the ceremony, followed by Hon. Karen P. Bennett-Haron, who welcomed the honorees and their guests, Justice Michael A. Cherry, Hon. Justice Kristina Pickering, and Hon. Rodney T. Burr of Henderson Justice Court, who swore into office the new justices.
The presence of Governor Brian Sandoval (R-NV) who spoke glowingly of his friend Judge Conrad Hafen added prestige and color to the affair.
The Southern Nevada Multi-Agency Law Enforcement presented the colors, while the Pledge of Allegiance was performed by the children, nephew and niece of the judges. The Star Spangled Banner was sung by Alexandra Bartlett while the Invocation was recited by James Kephart. The Summerlin Dance Company performed a special dance for the honorees.
Reception immediately followed at the 16th Floor, Building B of the World Market Center in downtown Las Vegas.